Samsung Galaxy Note 4 vs Apple iPhone 6 Plus: in-depth specs comparison
91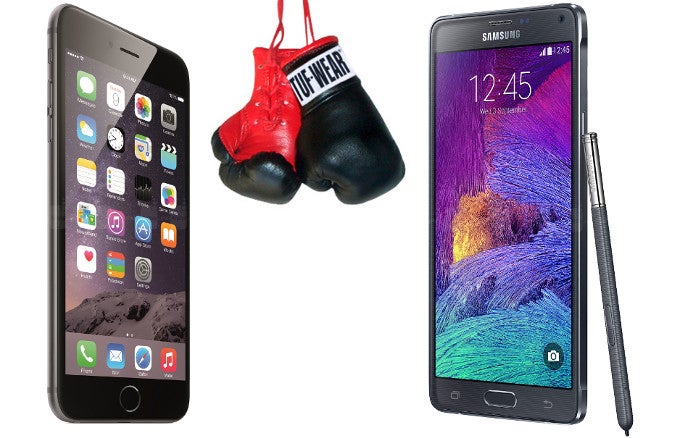 It's funny how things work out. When Samsung announced the Galaxy Alpha, a lot of people felt like the company is going after the similarly-sized iPhone 6. And now that we know that the first Apple phablet wasn't just empty rumors, but an actual device, it's hard not to agree that Cupertino is, in a similar fashion, going after a market that has Samsung's name all over it.
Indeed, Samsung is in what many would characterize as an advantageous position. It's definitely got an arm over Apple in terms of its experience and knowledge of the XL form factor and the market that demands it, but dismissing the 6 Plus outright is obviously out of the question. So how do they compare, specs-wise? Time to find out.
Design
Many will argue that aesthetics are a subjective thing, and while that's true for the most part, it does not preclude one from making certain observations. On the bright side, judging by the materials used in the construction of either of the two phones, both are worthy of their title as the highest of highest lines.
For its part, Samsung has gone for a polycarbonate body, encased within a sturdy metal frame. The back of the Note 4 imitates leather rather successfully, but has forgone the stitching on the sides that was present with the Note 3. As for Apple and its iPhone 6 Plus, we're looking at an all-aluminum unibody that provides an unmistakable, premium feel.
When talking ergonomics, we've got to point out that despite its larger screen, the Note 4 is actually just slightly wider, but also less tall. The iPhone 6 Plus, on the other hand, is much slimmer (0.28 vs. 0.33 inches) and a tad lighter (6.07 vs 6.21 oz). The differences are obviously not massive, but they're there. In any case, handling either of these two phablets with just one hand is mostly out of the question, as they're quite bulky by normal standards. That said, at least both companies have done good on the placement of the power and volume keys, all of which are conveniently located within a thumb's distance, at the sides of the two devices.
Display
One of the definitive highlights of the Galaxy Note 4 is its large, 5.7-inch Super AMOLED screen. We're talking a resolution of 1440 x 2560 pixels here (known as Quad HD), or an extremely high density of 515 pixels per inch -- so high, in fact, that you won't be able to perceive the difference between a conventional 1080p screen beyond a certain point. What's more, right now such a high-res content is extremely rare and essentially non-existent at this point in time.
What surprised us with the Note 4's display
when we sat down to examine it at IFA 2014
is just how well-calibrated it was (low color error, outstanding color temperature of 6596K) -- that isn't at all typical of Samsung's AMOLED units, which have always been big on overstated colors, though we're sure you'll be able to get the same effect through one of the many different screen modes available with it. Another weakness (more relevant to older generations of AMOLED) -- brightness -- also appears to be a non-issue with the Note 4, as our measurements showed a peak of around 500 nits, which is plenty enough even for use outdoors.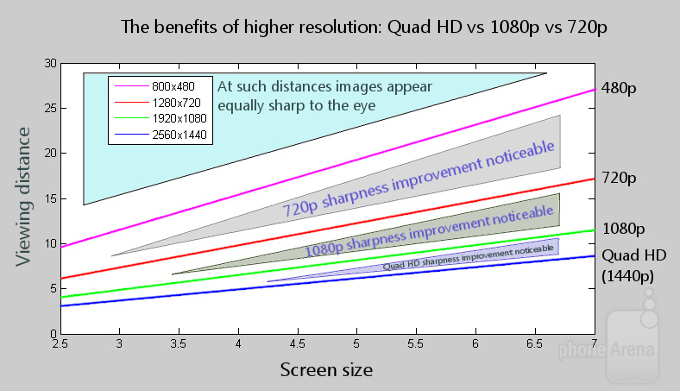 As for the iPhone 6 Plus, we're looking at a slightly smaller, 5.5-inch IPS panel with a resolution of 1080 x 1920 pixels, or some 401 ppi -- crisp enough for an excellent viewing experience. Like its rival, Apple has also done a pretty great job calibrating the screen, so we're looking at very acceptable levels of color errors, but a less ideal temperature of 7318K (6500K is the reference value here). This means that while the various color intensities are mostly on target, they do have a slight bluish overcast and are thus colder-looking than optimal. Where the 5.5-incher wins out is maximum brightness -- the unit can achieve the excellent 574 nits.
Interface and functionality
When looking at the software powering both these phablets, the two solutions employed couldn't be any further apart.
The Note 4, for example, relies on the latest version of Android 4.4 KitKat, but with a decisive and thick layer of proprietary functionality and customizations built-in. The Note 4's interface, known as TouchWiz, is essentially identical to what you'll find loaded onto the Galaxy S5, so if you've stumbled upon that one, you'll know what to expect. This means that both the good and the bad is also true for the Note 4. For example, the Note 4 is filled to the brim with extra features and perks, including the likes of MultiWindow (run two apps simultaneously side-by-side), the S Health suite of fitness & wellness apps, and even Smart Stay (screen doesn't dim so long as you're looking at it). These are complemented by the Note 4's fingerprint sensor, built into the physical Home button, and the heart rate monitor -- found at the back, next to the LED flash.
Also not to be underestimated is the iconic S-Pen stylus, which comes with a plethora of its own features through Air Command -- a suite of options (like Action Memo and Pen Window, the latter of which allows you to minify apps and keep them layered on top of everything) that are automatically activated when you take the pen out of its slot. Samsung also claims to have improved the Note 4's stylus compared with the one found on the Note 3, and cites increased display sensitivity. What's more, the company has also tweaked the minimum pressure needed when writing on the screen so that it feels more like using an actual pen.
Turning to the iPhone 6 Plus, we're met with the latest version of Apple's operating system in iOS 8. In terms of the aesthetics, nothing has changed since the major redesign from the iOS 6 to iOS 7 transition, so we're once again looking at flat and translucent visuals that are, admittedly, very attractive. That said, the iPhone 6 Plus can't compare with the Note 4 in terms of features, and is, in comparison, much more basic and conservative. This means that while you have very little say as far as the way the OS functions and very few customization options (third-party keyboards, notification bar widgets), iOS 8 is far neater and feels especially uncluttered when put next to the Note 4. For what its worth, we still like Apple's take on the fingerprint scanner better, as their implementation is of the touch type (and not swipe), which just makes it easier to use -- especially on as giant devices as these two.
Processor and memory
This being Samsung's most high-end line, it comes as no surprise to see that the manufacturer has packed the very latest hardware with the Note 4. We're talking a mighty powerful Qualcomm Snapdragon 805 processor (or an octa-core Exynos 5433 for some regions) with four Krait 450 cores clocked at 2.7GHz and an Adreno 420 GPU. To top it all off, Samsung has also added 3GB of high-performance, LPDDR3 RAM. As for the iPhone 6 Plus, we've got a dual-core, 20nm Apple A8 chipset, based off the 64-bit ARMv8 architecture, ticking at 1.4GHz. The GPU on-board has been suggested to be a beastly PowerVR GX6650, complemented by 1GB of LPDDR3 RAM.
Now, obviously, if you were to put the hardware specs sheets of the Galaxy Note 4 and the 6 Plus side-by-side, you'd probably end up thinking that Samsung's phablet has an overwhelming advantage over Apple's in terms of performance. The reality, however, is not that simple, and there are two things you need to keep in mind. First and foremost, the incredibly-detailed, Quad HD display of the Note 4 is a massive load on the processor, which has to work extra hard in order to fill all those pixels with information -- especially when talking about graphics-intensive apps like games, where the Note 4 just can't churn out as high a frame rate as it would have with a 1080p screen. In comparison, Apple's dual-core chip has it relatively easy. And secondly, despite all the extra muscle, our initial impressions are that the TouchWiz interface on the Note 4 still is heavier than Apple's UI, meaning that navigation is not as smooth and app start-up times are a tad higher.

As for built-in memory, the Samsung Galaxy Note 4 comes with 32GB of storage available, expandable through a microSD card for up to 128GB more. The iPhone 6 Plus, on the other hand, is offered in several sizes -- 16GB, 64GB, and 128GB -- but you can't expand over that. in result, extra storage comes at a premium with the 6 Plus, but it is faster and more reliable than microSD cards.
Cameras
With the Note 4, Samsung took everything that made the Galaxy S5's camera great and made it even better. To that end, the 16-megapixel rear shooter on the phablet has a fast, f/2.2 lens and makes use of a single LED flash. The entire unit is also optically stabilized with what Samsung calls Smart OIS -- a conventional stabilizing gizmo complemented by software (digital image stabilization). The result is low processing times and shake- and tremble-free footage when capturing video, and lower shutter speeds possible when taking stills in low-light environments. Up at the front, the company has propped a fairly generous, 3.7-megapixel selfie snapper with very wide, f/1.9 lens. This being the age of selfies and all, Samsung has also implemented a cool trick to aid your selfie journey -- just place your finger on the heart rate monitor on the back to snap a picture easily.
In comparison, the iPhone 6 Plus' rear shooter might feel conservative, though it actually churns out excellent stills. We're looking at an 8-megapixel iSight camera with f/2.2 lens and a two-tone LED flash for more balanced night shots. Alike to the Note 4, the 6 Plus also employs focus pixels which allow for extremely fast focus locks, and it comes with Apple's own OIS implementation. A comparatively low-resolution, 1.2-megapixel selfie shooter is located at the front, but our experience with it is pretty positive on the whole.
Where the two differ is the number of special modes they offer. The Note 4, for example, offers extras such as Surround Shot (360-degree panoramas), Virtual Tour, and can shoot 4K UHD video and slow-moes at 120 frames per second and 720p resolution. The iPhone 6 Plus, in turn, offers no special stills modes (apart from HDR and panorama), but can capture Time Lapses (long periods of time condensed and played-back quickly) and slow-moes at both 120 and 240 FPS at 720p resolution.
Expectations
With the Galaxy Note 4 and iPhone 6 Plus, we're looking at two best-sellers in the making. There's almost no doubt that both will sell in the millions, likely even in the tens of millions.
If they do end up selling as well, then it'll be obvious that we're talking about two great devices. So how do you pick between the two? Quite frankly, in the end it all comes down to your personal preferences, which will dictate whether you're an Android or an iOS person. A cliché, we know, but a good and true one. Indeed, with Android, you have a comparatively higher degree of control over the core functionality of the device, whereas that same core is essentially fixed with iOS and extra functionality is delegated to the wide selection of apps on the iTunes store. Where iOS usually wins out is with its neater interface, which is, in comparison, unencumbered by rows upon rows of options that hide even more options within, as is the case with Samsung's TouchWiz Android interface. And that, more than anything else, puts a clear-enough distinction between the two.