Samsung Galaxy Note 3 promotional video recalls the pop-up books you loved as a kid
66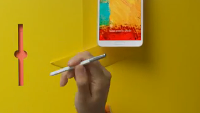 Remember when you were a kid and you would read those pop-up books? Each tab you pulled brought forth some type of action. Samsung took some of the features on the new
Samsung Galaxy Note 3
and turned them into the pages of a pop-up book for a promotional video. It came out as a clever and different way to show off some of the things that the phablet can do.
Air Command lets you hover the S Pen anywhere over the screen and select from one of five applications ready to open. Among the features displayed is Multi Window, which allows you to run two apps at the same time. Scrapbook lets you "cut out" snippets from the screen and file them away in a category for later viewing. Heck, there is even a little promotion for the Samsung Galaxy Gear watch at the end.
Want to see a unique promo that doesn't rely on making fun of the competition to make its point? Click on the video below. It's actually a refreshing change of pace.
source:
Samsung
via
SprintUsers