The Samsung Galaxy Note 10+ is totally destroyed by the competition in our blind camera comparison
99+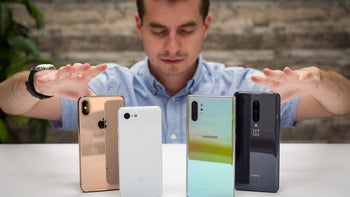 Phones today take better photos than ever. Even mid-rangers do.
Actually, the differences between two seemingly different devices are often so minuscule that most people out there would probably be fooled by a blind camera comparison test. Guess what, this is exactly what we are doing today.
We took the Galaxy Note 10+, the OnePlus 7 Pro, Google Pixel 3, and the iPhone XS Max for a photographic spin, took some photos, and you, I repeat, you will be the ones choosing the best photo in a total of eight different scenes.
So, the polls are now closed, and the winner is clear! Which one is it? Let's find out!
Scene #1 - No Netflix, just chilling
Scene #2 - Urban architecture
Scene #3 - My Cute Creatures
Scene #4 - A red rose
Scene #5 - Art gallery
Scene #6 - Night Mode on!
Scene #7 - The Black Rose
Scene #8 - Late evening ice cream
Results
The results are in and... Google snatches yet another victory from the hands of Samsung, Apple, and OnePlus.
Apple iPhone XS Max - 25.08%
Samsung Galaxy Note 10+ - 17.49%
With a total score of 35.51%, the Google Pixel 3 sits comfortably at the first spot, with the Apple iPhone XS Max being second with 25.08%. Third comes in the OnePlus 7 Pro, but the Samsung Galaxy Note 10+ is the big surprise here, losing this blind comparison with just 17.49% of your votes.