Samsung Galaxy Note 10+ supports 45W Super Fast Charging, but there's fine print
16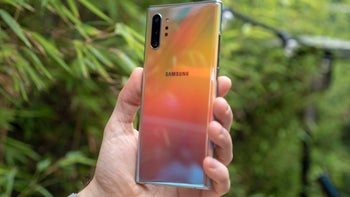 Super Fast Charging – sounds like something no one would mind having on their phone, doesn't it? This is what Samsung calls the charging tech employed by its new Galaxy Note 10 and Note 10+ smartphones. Both of these new devices ship with 25-watt chargers in the box – a considerable upgrade over the Note 9 and Galaxy S10 series which shipped with 15-watt chargers. And a special, extra-powerful charger can recharge the Note 10+ at up to a whopping 45 watts! All in all, Super Fast Charging sounds like a welcome improvement all Note 10 and 10+ owners will appreciate, but this new feature comes with a lot of fine print we believe should be brought to light.
45W Super Fast Charging is available only on the Galaxy Note 10+
As rumored, only the Samsung Galaxy Note 10+ will support Super Fast Charging at up to 45 watts. It seems like the smaller Galaxy Note 10 will only charge at a rate of up to 25 watts, judging by what is stated in its specs sheet.
Is this a subtle tactical maneuver meant to steer people into buying the more expensive Note 10+? Well, probably not. The thing with fast charging is that you don't only need a suitable charger, but also a battery that can handle the charge flow. And the larger the battery is, the easier and safer it is to charge it rapidly. The Note 10+ comes with a 4300mAh battery, the largest on a Note smartphone ever. At the same time, the faster a battery can be charged, the less charge it can hold per unit of volume. In other words, if the Note 10's battery cell supported 45W charging, perhaps it wouldn't have been able to hold its 3500mAh of charge.
45W charging requires a special adapter – and it doesn't have to be Samsung's
As we stated above, both Galaxy Note 10 models come with 25W wall adapters in the box. If you want to enjoy 45W fast charging on your Galaxy Note 10+, you'll have to buy a new power brick. Samsung already has a suitable wall adapter listed on its website, available in black or white. Pricing isn't known, but rumors are pointing at a $50 price tag.
Interestingly, it looks like you don't necessarily need Samsung's own power adapter to get even faster charging on the Galaxy Note 10+. Both Galaxy Note 10 models support the USB Power Delivery standard version 3.0, meaning that they'll also charge rapidly from compatible third-party chargers.
45W vs 25W charging: how much faster is it?
It seems logical to assume that the 45W charger will be 80% faster at charging the Note 10+ compared to using the stock, 25W power brick. After all, it is 80% more powerful. However, the actual boost in charging speed will most certainly be lower. That's because the charging rate doesn't stay constant. Your phone's battery only gets the full blast of its charger when it is empty or in the lower percentages. As it fills up, the rate of charging is reduced to keep the process safe. This is valid for practically any modern phone. For example, even though the Huawei P30 Pro comes with a 40W charger, we've observed the rate of charging dropping well below 10W towards the end of the process.
In any case, Samsung says that the Galaxy Note 10+ (the non-5G version) will last through a day of use after 30 minutes of charging with its stock, 25W charger. We also noticed that the unit used in Samsung's official Galaxy Note 10 hands-on video was at 15% and displayed a "56 m until full" message on its lock screen. Unfortunately, we have no idea whether a 25W or a 45W adapter was used for the demonstration, but no matter how you look at it, a zero-to-full charge in about an hour does sound pretty fast.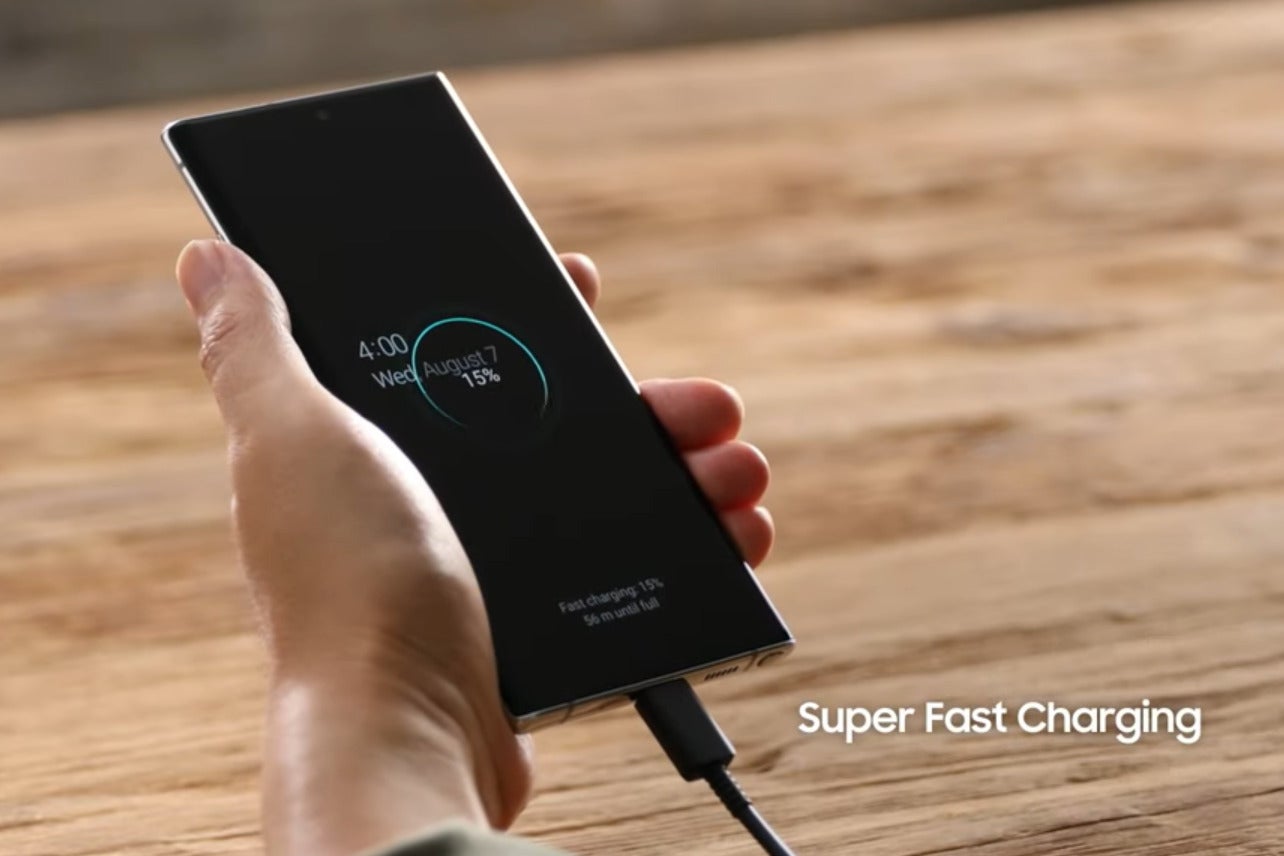 Looking at Samsung's promo materials, we expect the Galaxy Note 10+ to charge fully in about an hour
Can 45W Super Fast Charging damage the battery of the Galaxy Note 10+?
It is no secret that lithium-ion batteries have a limited lifespan. Every charge-discharge cycle takes away a tiny fraction of a cell's capacity due to the build-up of microscopic internal defects. And yes, the faster a battery is charged, the faster it loses capacity until it eventually becomes unusable. On the other hand, a battery
can
be designed to handle fast-charging better, and Samsung does happen to know a few things about designing batteries. Besides, the larger a battery is, the easier it can handle faster charging rates, and the Note 10+'s 4,300mAh cell is the biggest in a Note phone to date. So if you find the 45W rapid charging abilities of the Note 10+ practical, we believe that the battery cell that Samsung picked for the Note 10+ will handle the load just fine. But if you want your Note 10+ to last a really long time or if you tend to charge your phone overnight, you might want to avoid chargers faster than the one Samsung put in its box.
Recommended Stories