Samsung Galaxy Nexus vs Apple iPhone 4S: camera comparison
33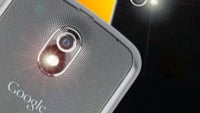 Guess what – you'll soon be able to read our
Samsung Galaxy Nexus
Review on the site, but until we're fully ready with it, we thought we could make the waiting a bit easier for you by presenting you with a nice camera comparison featuring the Galaxy Nexus and its arch-rival, the
iPhone 4S
. Who is better equipped to out-shoot the other? Let's take a look at the samples we took and see!
In terms of
detail levels
, we find the 8MP snapper of the iPhone 4S to perform a bit better than the 5MP one that's installed on the Galaxy Nexus. Rest assured that we aren't basing our opinion on the count of megapixels alone, we examined the shots very carefully. This doesn't mean that the Nexus is bad, actually both handsets perform admirably, but the iPhone 4S manages to edge it slightly.
The situation with
color reproduction
looks somewhat familiar, as we've now gotten used to the different approaches that both manufacturers have in this respect. On one hand, we have the oversaturated, yet well-balanced colors of the iPhone 4S. It's photos do look very appealing, however, those taken with the Galaxy Nexus turned out a tad more natural-looking. All in all, the two phones perform similarly, with the iPhone 4S opting for some warmer and vivider tones.
Exposure
is better handled by the iPhone 4S. Unfortunately, the Samsung Galaxy Nexus produces images that are a bit overexposed at times, which eliminates some details in the scene. When it comes to macro shots, we're perfectly happy with how both handsets managed to accurately focus on the near object, and nicely blur the background. With a little creativity, you'll be able to produce some amazingly-looking photos with the Galaxy Nexus and iPhone 4S.
When we moved
indoors
to check how our smartphone cameras perform in lower-light conditions, we noticed that both managed to come up with some pretty tolerable pictures when shooting in situations with a strong light-source. However, once we started dimming the lights, the Nexus quickly started to lose quality. Naturally, the images from the iPhone 4S started to lose quality as well, remained more tolerable, especially in the color department. Obviously, the LED flash of the 4S did a better job as well.
To tell you the truth, we're a bit underwhelmed by the
video
we shot with the Samsung Galaxy Nexus. Yeah, it's 1080p and all, but it's a bit choppy at 24 fps, which isn't something that we normally expect to see in a contemporary smartphone of this class. In contrast, the iPhone 4S's video is buttery smooth, and manages to present us with significantly more details. The sound capture is also clearer with the iPhone 4S.
Samsung GALAXY Nexus Sample Video:
Apple iPhone 4S Sample Video:
Samsung GALAXY Nexus Indoor Sample Video:
Apple iPhone 4S Indoor Sample Video:
That's all for now, folks, but be sure to stay tuned for our full Samsung Galaxy Nexus Review, which will be up soon!