Samsung Galaxy Mega 5.8 goes official: Europe-bound and coming in May
28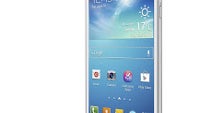 After numerous leaks here and there, the
Samsung Galaxy Mega 5.8
has just been officially unveiled and it is coming to Europe and Russia in May.
The Galaxy Mega 5.8 stretches the limits of what we consider a phablet with its
humongous 5.8-inch display
. The resolution, though, is only the qHD 540 x 960 pixels which works out to some 189ppi. In simple terms this means the screen is definitely not among the sharpest ones out there and jagged edges and pixelization will definitely be noticeable.
While not a high-end device, the
Galaxy Mega 5.8 will bring some of the latest features we saw in the Galaxy S4
to those on a tighter budget. The split screen function as well as the new camera modes like Drama Shot and Sound and Shot will come pre-loaded on the device. Samsung's S Travel and Story Album are among the features that will also make their way onto this handset.
The Mega 5.8 along with the newly announced Galaxy Mega 6.3 will also likely serve as test vessels for Samsung as it will undoubtedly judge
users' interest in such gigantic phones
.
Here is a quick rundown of the specs of the Samsung Galaxy Mega 5.8
5.8" qHD screen
Android 4.2 Jelly Bean
1.4GHz dual-core chip, 1.5GB RAM
9.0mm thickness, 182g weight
8-megapixel rear camera
2-megapixel front camera
8GB Internal Memory (expandable via microSD cards of up to 64GB)
HSPA+ 21Mbps
Wi-Fi a/b/g/n, WiFi Direct, BT 4.0 with BLE, USB 2.0 H/S, GPS+GLONASS
source:
Samsung

Samsung Introduces the GALAXY Mega

April 11, 2013

New GALAXY Mega offers the latest smartphone features with an extensive viewing experience.

SEOUL, Korea, April 11, 2013 - Samsung Electronics Co., Ltd, a global leader in digital media and digital convergence technologies, today announced the Samsung GALAXY Mega, a device that combines the portability and convenience of a smartphone with the power, multitasking capabilities and extensive viewing experience of a tablet. The newest addition to the GALAXY family balances an optimal viewing experience on a 6.3-inch HD screen, yet is ultra-thin and portable enough to put into a pocket or hold in one hand. The GALAXY Mega offers a mix of popular smartphone and tablet features such as an effortless user experience, a split screen, multitasking between video and other apps and more.

"We are aware of a great potential in the bigger screen for extensive viewing multimedia, web browsing, and more," said JK Shin, CEO and Head of IT & Mobile Business, Samsung Electronics. "We are excited to provide another choice to meet our consumers' varying lifestyles, all while maintaining the high-quality features of the award-winning GALAXY series."

Best of Both Worlds
The GALAXY Mega is an ideal choice for customers who want to get the most out of one device that brings great quality at an even greater value. With a 6.3-inch HD LCD screen with landscape mode support, the GALAXY Mega enables an exceptional widescreen view for various applications including web browsing, video, and SNS.

The GALAXY Mega is also light and thin for incredible portability and easy, convenient mobile phone use. Customers can stay connected with a variety of new phone features including:

• 'Group Play': Enables easy content sharing for up to 8 devices on the same Wi-Fi network.
• 'Samsung WatchON': Transforms into an IR remote controller for a richer TV experience. Connect the device to your home entertainment system, and it will provide program recommendations, schedules, and even remotely control your TV.
• 'Samsung Link': Easily streams photos, videos, notes, or music to your television, tablet or computer.
• 'S Translator': Say or text what you need translated into the GALAXY Mega, and it will provide instant translation, using text or voice translation on applications including email, and ChatON.
• 'ChatON': Share what's on your screen with friends to stay more connected.


Productivity and Multimedia for the Multi-Tasker
GALAXY Mega users will accomplish more with the rich, interactive experience and increased usability of the widescreen mode. Split screen capability for a variety of applications including email, messages, 'MyFiles,' 'S Memo,' 'S Planner', and more, makes for increased efficiency. With the popular 'Air View' feature, customers can preview information in emails, photos in Gallery, and speed dial contacts.
The GALAXY Mega is equipped with an enhanced 8 megapixel rear-facing camera with a 1.9 megapixel front-facing camera, along with a variety of camera modes including 'Drama Shot'(merging continuous shots of a moving object), 'Sound & Shot' (captures 9 seconds of sound and voice together as the picture is taken to capture moments), 'Rich tone,' 'Sports' and more. The device also packs various newly-introduced features for endless entertainment, including:

• 'S Travel': Provides trip information, local guides and resources and more
• 'Story Album': Allows customers to create albums of daily events, keep special moments in one place using a timeline, geo-tag information and publish digital albums in hard copy
For users seeking the same great tablet features with even more portability, Samsung is introducing the GALAXY Mega 5.8. This more compact version features a 5.8-inch screen.

Both GALAXY Mega 6.3 and 5.8 run on the latest Android 4.2 Jelly Bean experience, and feature Dual Core Processor, spacious internal storage along with up to 64GB of expandable memory to store favorite apps, music, videos, photos and more. The devices' advanced software also facilitates more efficient processor use for improved battery life, meaning users can enjoy longer talk time and multimedia use.

The GALAXY Mega will be available globally beginning May from Europe and Russia. The product availability varies by market and will be rolled out gradually.