Samsung Galaxy Fold reservations are now open in the US, sky-high price expected
38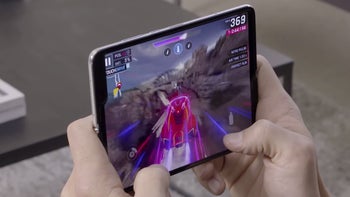 Samsung yesterday reminded us
that the
Galaxy Fold
- its first foldable smartphone - will be launching in the US this month. In consequence, this will become the very first truly foldable handset to be officially released stateside.
In addition to
T-Mobile
(which should start offering the handset online on April 25), AT&T will also carry the Samsung
Galaxy Fold
. Both AT&T and T-Mobile will sell the new device in stores starting April 26. Select Best Buy locations and Samsung Experience Stores will have the Galaxy Fold in stock, too.
Folks who want to make sure they're among the first to buy a Galaxy Fold (pictured above) can now reserve the phone
here at Samsung's official US website
. According to Samsung, Galaxy Fold supplies "will be limited." Thus, if you have the money and the desire to get the handset, you should probably reserve it as soon as you can. After a reservation is placed, you will "receive an invitation to complete your exclusive pre-order," although it's not clear when pre-orders will actually be open.
Back in February, when Samsung first announced the Galaxy Fold, it said that the handset would be priced at a whopping $1,980. Since then, there's been no update regarding the smartphone's price, so we assume that this is how much it'll cost when it finally goes on sale. At T-Mobile, the Galaxy Fold will come with a free carbon fiber case and free Galaxy Buds wireless earphones, and we're guessing that AT&T intends to offer similar freebies (though that remains to be confirmed).
The Galaxy Fold is a phone like no other before it
Unlike other
wannabe-foldable phones
of the past, the Samsung Galaxy Fold sports an inner display that's literally foldable. Tests conducted by Samsung have allegedly shown that the flexible display of the new smartphone can survive at least 200,000 folds and unfolds without being damaged. All in all, the device can be folded about 100 times per day for no less than 5 years. You can see how Samsung is testing the Galaxy Fold in the video below.
The flexible inner screen of the Galaxy Fold is a 7.3-inch Dynamic AMOLED one with 1536 x 2152 pixels - large enough to provide a great experience when playing games, watching videos and TV shows, or when multitasking. On the outside, the Galaxy Fold sports a 4.6-inch Super AMOLED display with 840 x 1960 pixels - good enough for the moments when you don't need the larger screen.
Running Android 9 Pie out of the box, the Samsung Galaxy Fold is powered by a Qualcomm Snapdragon 855 processor - the same high-end chipset that you can find inside the
Galaxy S10
series. The Galaxy Fold further offers 12 GB of RAM, 512 GB of internal memory, two batteries providing a total of 4,380 mAh (hopefully enough for a full day of use), a dual selfie camera, and a triple main camera with 2x optical zoom.
What you will
not find on the Galaxy Fold
is a standard 3.5mm headset jack, but the wireless earphones that Samsung plans to give away with the phone will partially compensate for that. Another thing to keep in mind is that the Galaxy Fold is not dust- and water-resistant. Moreover, this is not a 5G phone, so the
Galaxy S10 5G
(scheduled for launch in May) is Samsung's only current handset that's compatible with next-generation networks.
Mind you, T-Mobile and AT&T are the only US carriers that will sell the Galaxy Fold, and it looks like no unlocked version of this particular device exists. In other words, if you're on Verizon, Sprint, or US Cellular, buying a foldable smartphone is something that you'll probably not be able to do in the very near future.