The Samsung Galaxy Book 2 is a Snapdragon-powered Surface Pro 6 lookalike
19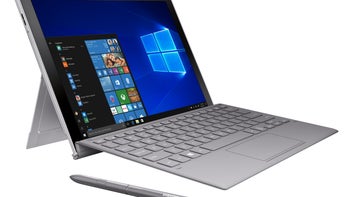 October may be peak smartphone season but it's also an exciting time for tablets. So far this month we have seen the
Microsoft Surface Pro 6
and the Google Pixel Slate, while
on October 30
Apple will be announcing its new iPad Pro line. However, today it was Samsung's turn to announce its own competitor.
Starting with the exterior design, the front of the tablet remains largely unchanged from
the previous device
, the only noticeable difference being a slightly more rectangular shape – despite the recent trend towards bezel-less designs, Samsung hasn't made much of an effort in this department. Over on the rear, some major changes have been included, although the look isn't exactly unique. In fact, the new Galaxy Book 2 looks suspiciously similar to the Surface Pro 6 thanks to the addition of a new built-in aluminum kickstand.
When it comes to the actual tech specs, the Galaxy Book 2 comes equipped with a large 12-inch Super AMOLED display which boasts a resolution of 2160 x 1440p and is paired with two AKG-tuned speakers. Internally, Qualcomm's Snapdragon 850 can be found, as can 4GB of RAM and a 128GB SSD. Other details include two USB Type-C ports, a 3.5mm headphone jack, Windows 10 with S Mode activated, and a weight of 1.75lbs. Interestingly,
Samsung
has not confirmed the exact battery capacity. Instead, it is following in the footsteps of Apple by simply stating an expected battery life of up to 20 hours on a single charge.
Pricing and availability-wise, Samsung has confirmed that this particular Windows 2-in-1, along with its include keyboard cover and S Pen, will retail for $999.99 in the US. Starting November 2, it will be available through the official Microsoft, Samsung, and AT&T websites, although later on in the month consumers will be able to pick it up at local AT&T, Sprint, and
Verizon
stores, all of which will be offering the Galaxy Book 2 with LTE plans.