Hands-on with the Samsung Galaxy Book, the new lightweight 2-in-1 Windows 10 tablet
13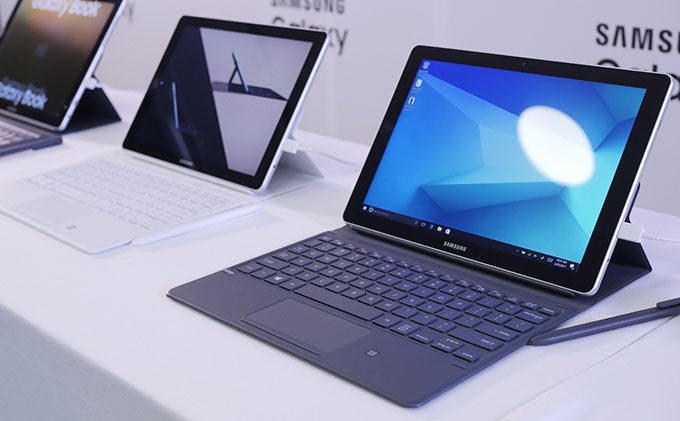 Is the tablet market dying? Look at the sales figures, and it's easy to get that impression, but Samsung's not so sure. While the traditional tablet – essentially just a jumbo-sized smartphone – may be seeing its popularity wane, more flexible devices, like the kind able to take the place of your traditional laptop, are on the rise. In fact, Samsung thinks that sales of such 2-in-1 convertible tablets aren't just going to be able to make up for diminishing interest in conventional tablets, but that they could even reverse the overall trend, and push tablet sales to new heights.
This
year at MWC
, Samsung's embracing our growing love of 2-in-1 productivity tablets with the launch of a couple such models, including the Windows-powered Galaxy Book. We had the opportunity to go hands-on with the new device, and learn a little bit about its intended uses.
Design
With a tablet like this, productivity's going to be the name of the game, and Samsung's aiming to build the Galaxy Book to deliver. The new tablet comes in two sizes, depending on just how portable your needs are: a big 12-inch model, and a slightly more petite 10.6-incher. Both versions are seriously thin, but the 12-inch Galaxy Book slides in just under the smaller tablet in terms of thickness, measuring 7.4mm to the 10.6-inch model's 8.9mm-thick build.
No matter which you choose, the tablet ships with a detachable keyboard cover, one which pops up to adjust between different positions (including a very-low-to-the-ground ten-degree setting), or swings all the way around to present the Galaxy Book as a free-standing screen.
Display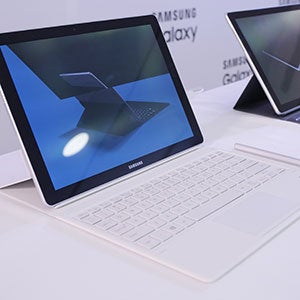 Obviously, we're looking at two different screen sizes for the Galaxy Book, but the distinctions between these two models don't stop there: they're also two different resolutions, as well as take advantage of two different panel technologies: TFT LCD for the smaller Galaxy Book, and Super AMOLED for the 12-incher. They both look nice, as we'd only expect from Samsung's screens, but the AMOLED wins out with its expanded gamut and super-saturated boldness.
And though there's no "Note" in the name of the Galaxy Book, these screens are very much S Pen-friendly, and Samsung includes a newly redesigned, almost chunky S Pen. It's very much not the "toothpick" of Galaxy Note phones, and though that makes storage a bit of a challenge, it also results in a stylus that's much more pleasing to hold.
Performance
When you're a company known for selling Android tablets, and you're trying to convince shoppers that your super-skinny new Windows 10 slate is to be trusted as a primary computing device, you've got to give it some powerful silicon. Here Samsung manages to nail that requirement with at least one of its models, outfitting the larger Galaxy Book with a Core i5 Kaby Lake CPU. The 10.6-inch Book doesn't arrive quite as well-equipped, but still manages to end up with a modern Core m3 chip.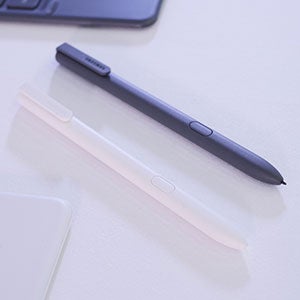 You've also got your choice of storage and RAM configurations, topping out at 8GB memory and 256GB flash for the highest-end 12-inch Galaxy Book, with microSD expansion available for everyone.
Obviously, these tablets arrive running Windows 10, and the hardware seems well-equipped to take advantage of the platform. The trackpad integrated into their included keyboard covers supports multi-touch gestures which can be used to impressive effect when plugging in some external displays. The smaller tablet allows you to hook up an external monitor over USB Type-C, while the larger tablet with its dual Type-C ports supports a pair of monitors at once. Then with some four-finger swipes, you can slide your desktop environment from the Galaxy Book's own screen, to your monitors, and back again.
Camera
We know, we know. It's not for everyone, but if you feel so possessed, the Galaxy Book tablet can be used as a camera. With the smaller tablet, you only get a front-facer for video conferencing and the like, but the 12-inch model picks up a 13MP rear sensor in addition to its webcam. Why? Because why not, that's why. Recording is limited to full-HD with both versions, but you'd have to be a special kind of crazy to complain about the lack of 4K filming from a tablet's camera.
Battery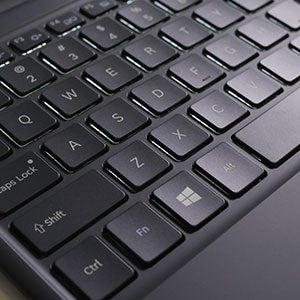 Despite the 10.6-inch Galaxy Book coming in thicker than its 12-inch brother, Samsung still manages to give the big-screen tablet a higher-capacity battery, to the tune of over 28 percent bigger. Really, though, the operational differences between the two should be minimal, with Samsung only quoting a 30-minute split in expected lifespans across the two models; clearly, the beefier processor and higher-res, larger screen of the 12-inch Galaxy Book contribute to eating up a lot of those reserves.
One really promising-sounding thing about the way the batteries work on these tablets is how accessories factor in to how you use them. Remember that USB Type-C external monitor setup we talked about earlier? While connected in such an arrangement, the Galaxy Book can actually charge over that interface while it's sending its screen to those displays
Expectations
We're only just scratching the surface of what you can do with the Galaxy Book here; the more time we spent with the tablet during our hands-on preview, the more interesting features we got to know. Take that S Pen: the stylus supports tilt detection that can be used (in concert with the tip's pressure sensitivity) to adjust stroke thickness. And because a manufacturer like Samsung just has to tap into the power of its device ecosystem, Samsung Flow exists to help you easily move files between your phone and Galaxy Book over Wi-Fi Direct, or get call notifications routed over to the tablet.
Speaking of cellular connectivity, both sizes of the Galaxy Book are available as an option with LTE connectivity – though there are also Wi-Fi-only versions to be found. No matter which you pick up, you're still getting that S Pen and the keyboard cover – no extras to buy here.
Compared to 2-in-1 tablets like the Huawei MateBook, there's reason to be optimistic that the Galaxy Book could represent a more attractive alternative, with its stylus that doesn't need to be recharged, and the availability of all its major accessories right in the box. But when put up against a powerhouse like the Surface Pro 4? Well, right now we just don't know.
Pricing threatens to be a huge factor in determining the attractiveness of the Galaxy Book, but for the moment Samsung hasn't shared any figures with us. It's almost certainly going to be on the higher end of the spectrum but just how high remains to be seen. Still, there's lots of potential here if Samsung gets things right, and we're very curious to spend some more time with this hardware and fill in the rest of the blanks in the story of how it will arrive.