Samsung Galaxy Alpha vs A5 vs A3: specs comparison
16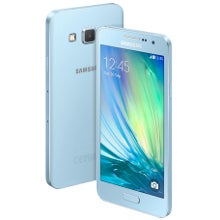 Last year,
Samsung execs gathered together
, and concluded that the single biggest obstacle against their Galaxy line of phones' world domination was design. Specs they had mastered, but users were constantly clamoring for a little something something in the premium chassis department.
Well, that little something materialized in the form of the ultrathin, metal-sided
Galaxy Alpha
, that is undoubtedly a piece that looks and feels very premium, yet still keeps the signature removable plastic back cover. After reviewing the Alpha, we think that Samsung is on to something here, but now it went even further, and released the all-metal
Galaxy A3
and
A5
, with sealed aluminum bodies. Let's recap what can we expect from those allegedly pricey lookers.
Samsung is actually making a U-turn with these not only in terms of design, but in specs as well, as it has equipped them with "mere" HD 720p and qHD 540x960 pixels AMOLED displays, and powered the phones with a lowly Snapdragon 410 that carries Adreno 306 GPUs, while the Alpha comes with more powerful chipsets. The 410 is a 64-bit processor, though, so the new metal phones from Samsung are Lollipop-ready, too. The A3 comes with 1 GB of RAM, while the A5 doubles that amount, so both fit nicely within their respective low-end and the midrange categories.
Tailoring these phones to the youth demographic, Samsung gives quite a bit extra in the camera department, outfitting the A5 with a 13 MP sensor, compared to 12 MP in the Alpha, while even the lowly A3 still comes with an 8 MP shooter on the back. It's the frontal cameras that are more interesting here, though - Samsung placed 5 MP wide-angle snappers on both, knowing perfectly well that the kids love'em selfie times. It has also introduced a few new software shenanigans to beautify and edit your selfie, before posting it on the social networks as if that's the real you. These include Wide Selfie, Palm Selfie, Animated GIF, Beauty Face Features, and Rear-cam Selfie - selfies go for the kill with those.
The choice of battery capacities is a bit underwhelming - a 1900 mAh juicer for the Galaxy A3, and a 2300 mAh one for the A5, though these are perhaps the highest capacities Samsung could fit in such Slim Jims. Given the wonders that Samsung achieved with the 1860 mAh pack of the Alpha, we wouldn't discard the possibility that these two are going to have excellent endurance either, though. Any takers?
Super AMOLED
Super AMOLED
Super AMOLED
Scratch-resistant glass, Ambient light sensor, Proximity sensor
Ambient light sensor, Proximity sensor
Ambient light sensor, Proximity sensor
Samsung Exynos 5 Octa 5433
Qualcomm Snapdragon 410 8916
Qualcomm Snapdragon 410 8916
Octa-core, 1800 MHz, ARM Cortex-A15 and ARM Cortex-A7
Quad-core, 1200 MHz, ARM Cortex-A53, 64-bit
Quad-core, 1200 MHz, ARM Cortex-A53, 64-bit
Mali-T628 MP6
Adreno 306
Adreno 306
Android (5.1 Lollipop, 4.4.4), Samsung TouchWiz UI
Android (5.0 Lollipop, 4.4.4)
Android (5.0 Lollipop, 4.4.4)
11.00 hours
the

average

is 19 h (1110 min)
12.00 hours
the

average

is 19 h (1110 min)
15.00 hours
the

average

is 19 h (1110 min)
37.00 hours
60.00 hours
68.00 hours
10.00 hours
11.00 hours
12.00 hours
Single camera
Single camera
Single camera
12 MP (Autofocus, CMOS image sensor)
8 MP (Autofocus, CMOS image sensor)
Aperture size: F2.2; Focal length: 31 mm
Aperture size: F2.0
3840x2160 (4K UHD) (30 fps), 1920x1080 (Full HD) (60 fps), 1280x720 (HD) (120 fps)
1920x1080 (Full HD) (30 fps)
1920x1080 (Full HD) (30 fps)
MPEG4, H.263, H.264, WMV
MPEG4, H.263, H.264, WMV
HDR, EIS
Video calling
Video calling
5.21 x 2.58 x 0.26 inches (132.4 x 65.5 x 6.7 mm )
5.12 x 2.58 x 0.27 inches (130.1 x 65.5 x 6.9 mm)
5.48 x 2.74 x 0.26 inches (139.3 x 69.7 x 6.7 mm)
4.06 oz (115.0 g)
the

average

is 6.5 oz (184 g)
3.89 oz (110.3 g)
the

average

is 6.5 oz (184 g)
4.34 oz (123.0 g)
the

average

is 6.5 oz (184 g)
Back: Plastic; Frame: Aluminum
Back: Plastic; Frame: Metal
Back: Plastic; Frame: Metal
Touch sensitive control keys