Samsung may have a standout midranger with the A9, if its quad camera is done right (results)
6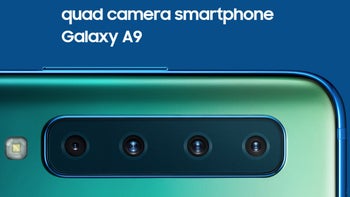 We asked your opinion on the quantity vs quality camera trend that has emerged with the new quad-cam
Galaxy A9
, and, lo and behold, most of our respondents would take both. Аbout 47% of our 1755 respondents think that Samsung may have the most versatile mobile shooter on its hands with the A9, with the big caveat that the pictures from its quad setup actually turn out good.
A good 32%, on the other hand, think that four rear cameras is a bit of an overkill, and are seemingly on the opinion that they were announced for the sake of the number game, like the megapixel race a few years back. Just 21% are inclined to give Samsung the benefit of the doubt, and proclaim the Galaxy A9 as a flexible photography tool with real advantages from the get-go, without the first sample reviews from its quad-camera kit.
People are intrigued by the first quad-camera phone, provided that its picture samples turn out well
Samsung went all-in with the camera kit on its new
Galaxy A9
that was just announced as the world's first with four cameras. Wait, what? Yep, about the only thing missing is a monochrome sensor, but even without it, this thing can cover most every photographic dilemma you might encounter.

The top shelf of the vertical quad-camera placement is reserved for the 8MP Ultra Wide-angle camera with f/2.4 aperture and a 120 degrees field of view. Right underneath comes the 2x zoom telephoto camera with 10MP resolution. A 24MP main sensor will take care of the low-light shots with the widest, f/1.7 aperture, while below the fold is the 5MP sensor for extra depth measurement in re-focused and portrait shots.
What's next, a penta-camera setup with a black and white module added for extra measure just so that someone could yell "first!" Well, not really, as having both telephoto zoom and wide-angle lenses can turn very useful in many scenarios, while the depth sensor is sure to make post-focusing easier. On top of that photographic versatility, the A9 is a very capable midrange warrior, too, with huge OLED display, large battery, and, thankfully, a metal body that won't be easy to shatter when dropped.