Samsung Galaxy A8 vs A7 vs A5 specs and size comparison
16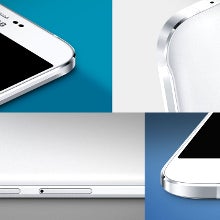 Now that the latest and probably last phone for the year in Samsung's novel metallic A-series has been announced, it's time to put the fresh
Galaxy A8
against its slightly smaller
Galaxy A7
sibling, and the little
Galaxy A5
brother that was announced late last year.
Granted, it is taller than the A7, allowing it to fit a 5.7-incher against the 5.5" panel of the A7, and a fingerprint scanner in the home key below the display, but that's about it when it comes to the size difference. The A8 is about as wide, and on top of that thinner than the middle child in the family, making it also one of the most compact Androids for its display diagonal, and just 10 grams heavier.
The little guy A5 is, naturally, the most manageable in the hand, and the cheapest, but then again, its siblings are spec'd way better, sporting 1080p displays, against the HD panel of the A5, and running on octa-core Snapdragon 615 chipsets with multiband LTE connectivity. When it comes to memory, though, the phones are identical, with 2 GB of RAM, 16/32 GB storage models, and microSD slots for expansion. Where the A8 shines, besides its bikini body, is the camera department, as it is equipped with a 16 MP ISOCELL shooter, against the 13 MP cams on the A7 and A5.
Last, but not least, the
Galaxy A8
will run battery life circles against its siblings in the A-series, as Samsung managed to fit a large, 3050mAh battery in the sub-6mm chassis. No word of official pricing on the A8 yet, but the leaks so far indicate that the A8 will be pegged at around $500 off-contract, or a level below the $600 Galaxy S6, and above the $400 Galaxy A7. The $300 munchkin is the cheapest in this gang, so there is something for everyone in Samsung's excellent A-series portfolio.
Super AMOLED
Super AMOLED
Super AMOLED
Ambient light sensor, Proximity sensor
Scratch-resistant glass, Ambient light sensor, Proximity sensor
Scratch-resistant glass, Ambient light sensor, Proximity sensor
Qualcomm Snapdragon 410 8916
Qualcomm Snapdragon 615 8939
Qualcomm Snapdragon 615 5430
Quad-core, 1200 MHz, ARM Cortex-A53, 64-bit
Octa-core, 1500 MHz, ARM Cortex-A53, 64-bit
Octa-core, 1500 MHz, ARM Cortex-A53, 64-bit
Adreno 306
Adreno 405
Adreno 405
Android (5.0 Lollipop, 4.4.4)
Android (5.0 Lollipop, 4.4.4), Samsung TouchWiz UI
Android (6.0 Marshmallow, 5.1 Lollipop)
12.7 days (304 hours)
the

average

is 20 days (472 h)
15.00 hours
the

average

is 19 h (1110 min)
17.00 hours
the

average

is 19 h (1110 min)
Single camera
Single camera
Single camera
13 MP (Autofocus, CMOS image sensor)
Aperture size: F2.0
Aperture size: F1.9; Pixel size: 1 μm
1920x1080 (Full HD) (30 fps)
1920x1080 (Full HD) (30 fps), 1280x720 (HD), 640x480 (VGA)
1920x1080 (Full HD)
Video calling
Video calling, Video sharing
Video calling
5.48 x 2.74 x 0.26 inches (139.3 x 69.7 x 6.7 mm)
5.94 x 3.00 x 0.25 inches (151 x 76.2 x 6.3 mm)
6.22 x 3.02 x 0.23 inches (158 x 76.8 x 5.9 mm)
4.34 oz (123.0 g)
the

average

is 6.5 oz (184 g)
4.97 oz (141.0 g)
the

average

is 6.5 oz (184 g)
5.33 oz (151.0 g)
the

average

is 6.5 oz (184 g)
Back: Plastic; Frame: Metal
Back: Plastic; Frame: Metal
Back: Plastic; Frame: Aluminum
Notification light
Touch sensitive control keys