Samsung Galaxy 12.2 tablet image leaks
53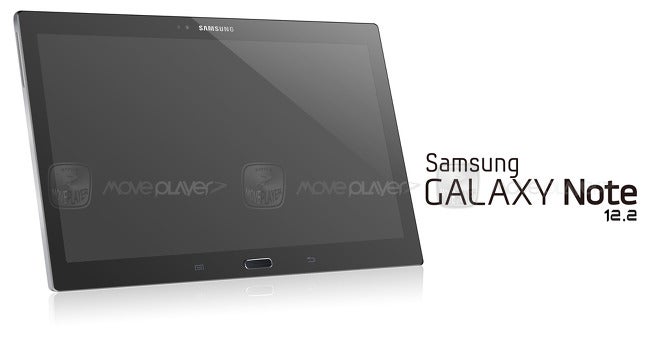 Since
June
, we've been hearing little bits about a 12-inch tablet in the works from Samsung. At first, it was thought that Samsung was working on a high-end tablet (aka a Galaxy Note), but once more info came out, it became clear it was a mid-range tablet (aka a Galaxy Tab). Now, the first alleged image of the upcoming Samsung Galaxy 12.2 tablet has leaked.
First off, the device is labeled as the Galaxy Note 12.2, but we're a bit hesitant on that part though, because all of the previous rumors, and the original source for this image list the device as model SM-P900; and, a "P" in a Samsung tablet model number usually indicates that the device
does not
have S-Pen support, which would mean it is a Galaxy Tab, not a Galaxy Note.
Otherwise, the image is a press render, rather than an actual image of the device, but it does show a few interesting things. It looks like Samsung may be going with a very slightly asymmetrical design where the top edge (in landscape mode) of the tablet is a bit thicker than the bottom. It's not quite as pronounced as you would see on the Sony Xperia Tablet S, though. Samsung has also decided to keep going with physical buttons, rather than adopting Android's onscreen buttons.
If this really is the
SM-P900
, it has been rumored to have a 12.2-inch 2560x1600 display as well as the Samsung Exynos 5 Octa SoC. The general thinking is that Samsung will be announcing the device at IFA in just a few days time along with the Galaxy Note III and the Galaxy Gear smartwatch, so we should get the full story then.