Samsung may be working on a 12.2-inch Android tablet
14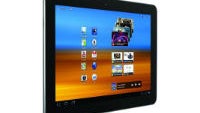 A couple weeks ago, we saw some leaked User Agent Profiles (UAProfs) for a trio of
Samsung tablets
. At the time, the data we had made us think that the UAProfs were showing the next generation of the Galaxy Tab 10.1 series devices; but, new evidence is showing that they may be a new set of devices with 12.2-inch displays.
We had seen UAProfs for Samsung tablets with model numbers: SM-P900, SM-P901, and SM-P905. The "P" in the model numbers tends to indicate that there won't be S-Pen support, and the devices were listed as having display resolutions of 2560x1600, which would seem to indicate something in the Galaxy Tab line, but it seems we may have been off on the screen size. We assumed 10.1, because that's all we've seen so far with a resolution that high, but an import/export database from India has the SM-P905 listed as having a 12.2-inch display.
A 12.2-inch display with a resolution of 2560x1600 would mean a pixel density of 247ppi, which is still pretty solid. And, it would fall in line with the lower price points that Samsung goes for with the Tab series devices.
Recommended Stories