Samsung GALAXY Note II 6400mAh extended battery offered by Mugen Power
29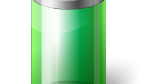 How would you like to more than double the battery life on your
Samsung GALAXY Note II
? After all, you can never have enough battery life on a device like the GALAXY Note II with its 5.5 inch screen constantly hungry for power. The stock battery that comes on the device is no slouch at
3100mAh
, but even that sized cell will require you to have your recharger at the ready. Instead of constantly feeding the stock battery, you can purchase an extended battery from the folks at Murgen Power.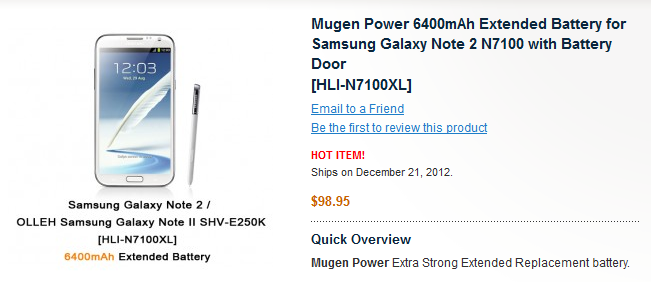 Murgen Power will sell you a 6400mAH cell for the Samsung GALAXY Note II
At
6400mAH
, this extended battery for the Samsung GALAXY Note II has 2.06 times the capacity of the stock battery and should last more than twice as long before conking out. The extended cell does have a larger footprint than the original cell, which requires you to use the special battery door that comes with the new battery. It does give your Samsung GALAXY Note II a little more girth, so to speak, but that's a small price to pay. Some people we know would sell their soul for 5 extra minutes of battery life on their smartphone.
The 6400mAh extended cell will be available for shipping on December 21st and costs
$98.85
. The rear cover comes in your choice of two colors, grey or white, so that it can match the rest of the phone. You can order the extended battery for your Samsung GALAXY Note II by clicking on the sourcelink below.
source:
MurgenPower
via
SlashGear