Samsung Focus 2 unboxing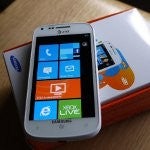 For those of you salivating to get the
next budget friendly Windows Phone
, the wait won't be for much longer considering that the
$49.99 on-contract Samsung Focus 2
is set to arrive in stores starting on
May 20th
. Lucky for us, we just received our review unit and decided to give it the good old fashion unboxing treatment.
Hardly a surprise, the packaging for this latest Windows Phone is quite familiar, as it boasts the
typical AT&T colors
we're so accustomed to seeing with many AT&T bound devices. Up front and center, there's a small image of the handset in question, while in the rear, we get treated to a slightly larger photo to give us a good look of what to expect. Alongside it, there are some standout tid bits regarding the handset – like having 4G LTE connectivity, a 4" Super AMOLED display, dual-cameras, and a 1,4GHz single-core processor. For the price of the smartphone, we can't expect a whole lot in terms of included accessories. Rightfully so, we find all the usual suspects – such as the quick start guide, safety & warranty information, microUSB cable, and wall charger. However, we truly appreciate the
stereo headphones thrown in with the handset
!
Seeing that we spent a decent amount of time
playing with the handset during CTIA
, we won't go over much of the specifics regarding the phone. However, we'd like to point out that it's one
compact and clean looking device
that doesn't display much debris or smudges, which is thanks in part to its slick white plastic body. Moreover, its 4" WVGA (480 x 800) Super AMOLED display continues to enthrall us with its
rich and full bodied colors
.
Alright, well that's enough for now, as we'll be testing it out more in depth to see how this 4G LTE equipped Windows Phone compares to the competition. Expect our in-depth review soon!