Samsung Experience shops beginning their launch within Best Buy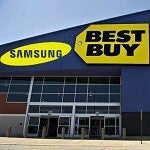 We have been hearing about these Samsung shops making an appearance within Best Buy locations across the United States for some time now.
Today in New York City, the newest Samsung Experience Shop was unveiled at Union Square. By early summer this year, Samsung and Best Buy will have put in place these new shops at over 1,400 Best Buy and Best Buy Mobile locations.
These new experience shops will give customers a chance to get up close and personal with the wide range of Samsung devices, including the Galaxy S4. In fact, a lucky bunch of visitors to Union Square today were picked to attend an appreciation event featuring Grammy winner Bruno Mars.
Beyond the festivities though, the new space brings more of the breadth of Samsung's solutions to consumers. The experience shops will also showcase Samsung's home automation, "Allshare," a host of accessories for your new Samsung devices and everything in between.
The Samsung Experience Shops across the country will all be sporting the new Galaxy S4 starting Saturday, April 27th.
source: Samsung
Samsung and Best Buy Begin Nationwide Rollout of Samsung Experience Shops
Grand Opening Events Provide Consumers with Early Access to the Highly Anticipated Galaxy S 4 and Bruno Mars Concert
New York City – April 24, 2013 - Samsung Electronics celebrated the launch of the Samsung Experience Shop™ today with the grand opening of their newest location in New York's Union Square Best Buy store. An executive grand opening and experiential consumer event featuring Bruno Mars mark the beginning of a nationwide rollout of the Samsung Experience Shop, which will be installed in more than 1,400 Best Buy and Best Buy Mobile specialty stores across the U.S. by early summer. This innovative retail concept allows customers to explore, purchase, activate and service the broadest portfolio of Samsung mobile products and accessories, including the highly-anticipated Galaxy S® 4 that launches starting April 27.
The Samsung Experience Shop was unveiled by JK Shin, CEO and President of IT and Mobile Business at Samsung, Hubert Joly, CEO of Best Buy, and Tim Baxter, President of Samsung Electronics America, in a ceremony at the Best Buy Union Square store. The executives gave remarks on the new experience and officially opened the space to an audience of associates, executives and media. Guests then toured the Samsung Experience Shop to see the portfolio of Samsung mobile products available in one location and learn how to do more with their devices, including interacting with other Samsung products.
Samsung Fan Appreciation Event with Bruno Mars Thursday, April 25
The first 300 Samsung fans to visit the Best Buy Union Square store at 5:00 pm ET today, April 24th will be able to attend an appreciation event for fans that includes an experiential event featuring models of the Samsung Experience Shop and a performance by Grammy Award-winning artist Bruno Mars. The event is being held to celebrate the opening of Samsung Experience Shops nationwide and the arrival of the Galaxy S® 4. Attendees will be among the first to see and demo the Galaxy S 4 through interactive stations just hours before it goes on sale nationwide.
Galaxy S 4 Hits Stores Starting Saturday, April 27
Samsung Experience Shops are beginning to open just in time for the official launch of the highly-anticipated Samsung Galaxy S 4. This leading-edge smartphone arrives in the U.S. starting Saturday, April 27. On launch day, shoppers can line up at Samsung Experience Shops nationwide to experience the device's suite of innovations that will change how consumers interact with a smartphone and deliver an experience that enhances everyday activities and is safe for work. The Galaxy S 4 uniquely makes advanced technologies and features easy to use by integrating them into the way individuals use their phones every day.
To learn more about The Samsung Experience Shop, visit. www.bestbuy.com/samsungexperienceshop.
To learn more about the Samsung Galaxy S 4, visit http://www.samsung.com.
About Samsung Electronics Co., Ltd.
Samsung Electronics Co., Ltd. is a global leader in technology, opening new possibilities for people everywhere. Through relentless innovation and discovery, we are transforming the worlds of televisions, smartphones, personal computers, printers, cameras, home appliances, LTE systems, medical devices, semiconductors and LED solutions. We employ 236,000 people across 79 countries with annual sales of US$187.8 billion. To discover more, please visit www.samsung.com.
###