Samsung Electronics Launches Mobile Phone with Color Display and Embedded Camera
0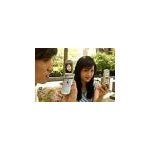 Samsung Electronics has completed development of the world's first CDMA2000 1X mobile phone (model: SCH-X590) with color display and embedded charge-coupled device (CCD) camera. Building the camera into the phone makes it easier to use than having an external camera attached. The phone not only takes high-quality pictures but also can then transmit those images wirelessly.
The embedded digital camera can rotate 180 degrees to conveniently take pictures from any angle.
It comes with a 4-power zoom lens and has 20 different aperture settings to capture the best quality images.
The SCH-X590 can store up to 100 photos in its memory, and the multi-display function allows the user to search through the image archive as many as six at a time. The stored images can also be posted in the display background.

A mobile phone with color display and embedded camera has many uses. People no longer have to keep an emergency camera in their automobile to record the details of an accident. Pictures can be taken freely during ones travels or at some major event and then sent immediately to friends or colleagues.

The SCH-X590 has all the standard features of a high-end mobile phone. These include a 40-chord progression polyphonic ring tone and support for online multimedia services (NATE).

The Korea Standards Association selected the SCH-X590 for its 2002 Technology Frontier Award on April 18.
The selection was based on the innovative technology, high quality, competitiveness and convenience of the product.

Samsung Electronics unveiled Korea's first mobile phone with external digital camera (300,000 pixels) in February of this year.
By now introducing a model with embedded camera, the company is well positioned to lead the camera phone market.

Moreover, Samsung is scheduled to unveil additional breakthrough mobile phone products next month.
These include a folder model with color screen and built-in camera that can rotate 360 degrees and a synchronous IMT-2000 model that can display motion pictures on a color TFT-LCD with a color gamut of 260,000. The latter product can be used to transmit live images of the speaker's face during conversations.