Samsung ChatON for Android now supports SMS and MMS... in Germany and Brazil
5
As we all know, Samsung's unofficial motto is "anything you can do, (I think) I can do better." There is obviously the unfortunate incident with TouchWiz that has ended in multiple lawsuits, but there is also the various content stores and apps that Samsung has created in order to slowly wiggle its way from Google's Android services. Samsung ChatON is the attempt at a cross-platform messaging service, and now it supports SMS and MMS.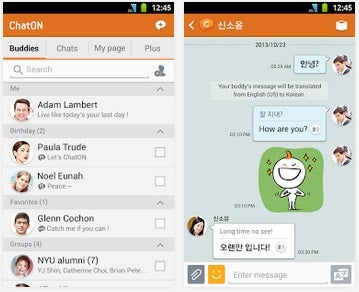 Earlier today, we heard that Samsung was also working on a
group video chat
feature similar to what you'd find in Hangouts, and adding SMS to ChatON feels very much in that same vein. Or, you can say it is following in the footsteps of iMessage or Facebook Messenger if you'd like, but Hangouts is the most recent analogue. As you'd expect, along with the usual messaging features, the update will allow you to use ChatON as your SMS client as well.
SMS is not coming to the iOS version of the app, but it is available for Android. Unfortunately, the feature is only available to users in Germany and Brazil right now. Samsung says the feature works best with the Galaxy S 3, Galaxy S4, Note 2, and Note 3, but it should work on most devices running Ice Cream Sandwich and higher. No word yet on if the feature is coming to more regions anytime soon.