Samsung: Apple's 'icon layout' patent isn't worth $539 million, cue the retrial
22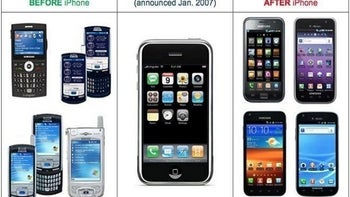 Samsung isn't amused by the
final court verdict
that it has to fork over $539 million to Apple in the endgame of the patent infringement saga that has been going on for years now. Its lawyers have apparently filed a post-trial motion demanding that the case is re-judged, with the following counter-claim:
The jury's verdict is excessive and against the weight of the evidence on each and every issue identified above, and … the evidence supports a verdict of no more than $28.085 million
Samsung's premise is that Apple's icons layout patent applies only to the interface and the screen, not the entire phone, so it shouldn't be asked to pay damages for the whole of handsets it shipped with such UI arrangements, just the relevant part. Apple's case rests on exhibits like the one you see above, from the
Relative Evaluation Report submitted to the court
then, arguing that Samsung changed both its hardware and software design significantly after the OG
iPhone
was introduced.
In addition, Samsung asks that Apple returns to it $145 million that it paid in 2012 over a touchscreen patent, with interest, as the patent in question seems to have been invalidated by the United States Patent and Trademark Office already. A jump from $539 million to $28 million seems like a long stretch, but whatever Samsung manages to shave off the top end in a potential retrial, will be a welcome reduction anyway.