Samsung Acme i8910 – it's all about HD
This article contains unofficial information.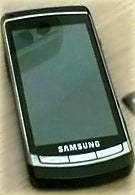 They just keep coming, don't they? With the MWC expo a few days away, all kinds of rumors about future Samsung phones have been set. Most of them may seem the same, but this is not the case here. The Samsung Acme i8910 is sure to attract the attention of even the most pretentious users, since it offers a rich selection of high-end features, including the never before seen in a phone HD video recording. In addition to this, it'll utilize an HDMI port, which combined with its DivX capabilities will make for a real portable multimedia player that can be easily attached to an HD TV. Judging by the leaked photos, the device seems to have a really slim and sleek design, reminding us of the ubiquitous OMNIA. But then again, a phone, similarly to a woman, isn't all about the body. In relation to this, the Acme will be proud to offer also a built-in GPS receiver, Wi-Fi, a 3.5mm jack and DNLA support.
The phone is said to come in two versions – 8GB and 16GB one, both of which will most likely have a memory card slot. It seems to us that this would be an interesting device, in case Samsung is really going to meet the specifications mentioned above. One way or another, we'll be looking forward to seeing it more officially, hopefully at the MWC.
Samsung Acme Preliminary Specifications
source:
Gaj-it
via
Pocket-lint