SNL takes on Google Glass
13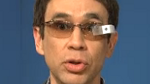 Saturday Night Live's
Weekend Update
last night featured a segment on technology hosted by correspondent Randall Weeks (played by Fred Armisen) which was supposed to show how, unlike a smartphone, using Google Glass is
discrete
. Instead, with loud volume allowing everyone around to know that Weeks was watching porn on the device, and with exaggerated head rolls to scroll the screen and to go back a page, the Weeks character proved otherwise.
A couple of notes. The audience reaction revealed that it is just not tech savvy nerds who have an interest in Google Glass. The audience was on top of the skit from the moment that that the news parody's tech expert was seen on screen wearing the recently shipped product. And we have to give kudos to NBC for building a more than passable replica of Google Glass. How passable was it? Well, we wouldn't go buying a used unit from someone from the peacock network. Hey, did we just say
peacock
? You need to watch the video to understand that comment.
Go ahead, check out the video below. We promise it won't bite.
source:
SaturdayNightLive
via
Mashable