SMS being used to track great white sharks prowling beaches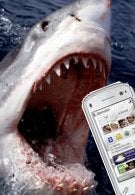 You never know what you might come across while swimming at the beach, but make sure to stay close to a beach lifeguard before you take a dip. The last thing you want to see as you're leisurely swimming is a big fin rise from under the water and catch your eyes – you'll be hustling fast back to safe grounds at that point. Over in Western Australia, they are testing out a new trial where beach lifesavers will receive a text message alerting them about the presence of one of nature's predators – the great white shark.
More than 70 sharks have been tagged so far – allowing for message alerts to be sent via SMS or email when one of them moves within 500m of metropolitan beaches. Not only is it a great early warning detection, but the data gathered aims to unlocking the secrets of shark migration patterns. So next time you're vacationing in Australia, just don't venture too off from the closest beach lifeguard – you'll never know when that alert will come in.
source:
The Telegraph
via
Textually