S6 Edge might be called Galaxy S Dual Edge, but the side screens said to be just for show
27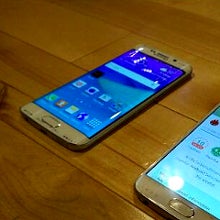 The
Galaxy Note Edge
side screen
serves many purposes
that may justify its existence - displaying camera and music player controls, information tickers, app shortcuts, pretty pics, and so on. The Galaxy S Dual
Edge
(yep, that's what it might be called) screen? Not so much, at least according to Korean media.
Well, that's what a Korean business publication claims today at least, citing "industry sources." That same insider is pouring cold water on the side-sloping functionality, too: "
The size of the Galaxy S Dual Edge is smaller than the Galaxy Note Edge. So, it was presumably difficult to enlarge its dual-edge screen. I think that there will be no message alarm or information storage functions owing the narrowed screen
." As it stands, the Galaxy S Dual Edge might just be a proof of concept handset for Samsung, aiming to show that the company can leverage curved display device production in the scale needed for commercial realization.