Russell Brand promotes the HP TouchPad
2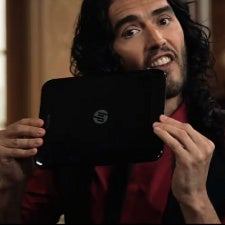 The
HP TouchPad
is facing some tough competition in tablets – the ubiquitous iPad, heaps of Android pretenders, and even small yet promising BlackBerry PlayBook. You might think that's as serious of an environment as it gets for HP's webOS tablet, but that's when British comedian Russell Brand pops in to do some of the explaining and promoting.
First, you'll get to deeply understand how flicks and swipes on a tablet are different than dealing with boogers, but then you'll also learn how to handle
multitasking
and get informed about Brand's only great idea. If that's not enough, a brilliant line explains
notifications
on webOS:
"Here's a message now, I'm just ignoring it."
And quite frankly, with mails, notifications from social networks, microblogs and just about every other website, ironically, that seems more important than ever.
Finally, if you're thinking
"I'm bored now, breathing in and out, on a planet with the Amazonian rainforest, animals, natural wonders, the pyramids,"
you know what you can do, right? Brand suggests to grab an HP TouchPad, but we'd advice you to stay tuned for our
in-depth review
which is coming soon.