Rumors abound over Pebble's financial health now that the Apple Watch has landed
8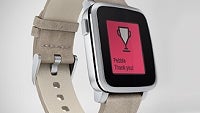 As with all rumors, it is always best to take them with a grain of salt, but word around Silicon Valley is that Pebble is looking for cash, even after blockbuster crowdfunding campaigns for its products.
Sources have apparently passed on to TechCrunch that the company is having trouble keeping the wind in its sails, and that Silicon Valley venture capital firms have been declining to infuse Pebble with additional funding.
Pebble has since gone to the bank and signed for a $5 million loan, and an additional $5 million line of credit. The company employs more than 150 and is still hiring. Managing growth in such a way is not uncommon, and thus is arguably a good sign, but to amass debt of that magnitude for a young company when VC money is flowing strongly throughout the tech sector, it raises more than a few eyebrows.
Even after reaching its most recent crowdfunded goal for the
Pebble Time in 17 minutes
, and then going on
to raise $20 million
($18m after fees), there is apparently restlessness among the ranks that are concerned over how Pebble addressed (or did not address) competition from instant hit Apple Watch, Android Wear manufacturers, LG's webOS powered Urbane, even Samsung's Tizen OS wearables.
Each of those companies dwarf Pebble, and now that the Apple Watch is on the scene, ostensibly surpassing all
Android Wear sales combined
, the company is just a dot.
Despite all that, no one is calling it quits just yet, and anonymous sources at Pebble are reportedly "cautiously optimistic." The wearable space is still too young to call winners and losers, but Pebble may have to adopt a more nimble and innovative position that does not rely on crowdfunding to bring future products to market. Of course, to do that, it helps to have a healthy cash flow and funding source.
source:
TechCrunch