Rumor: Microsoft to launch retail stores across Europe in 2013
6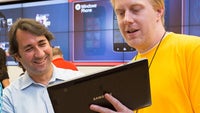 A total of 66 Microsoft retail stores are currently operational across the U.S., Canada and Puerto Rico, and their number is only to go higher in the foreseeable future. In fact, the company is planning on opening its first retail locations outside of North America next year, according to a source for
Financial Times
. It is said that Microsoft is already in talks with landlords in the UK and is feeling "confident" about launching several stores in 2013.
Before that happens, however, Microsoft will examine the performance of its U.S. retail outlets in order to find out which model has yielded the best results. Some of the company's locations are permanent, whilst others – the so-called pop-up stores, are open at a given location for a limited time, usually around holidays. This internal survey will be conducted by the end of 2012.

The source of the rumor mentions only the U.K. as a market targeted by Microsoft, but it won't be surprising if the tech giant launches stores in other major countries across Europe. The move is expected to help Microsoft boost the sales of its own hardware and products running its software, such as Windows Phone smartphones, Windows 8 tablets, and portable computers.