Rogers ad for Motorola RAZR takes the cake
11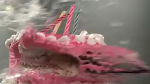 Recently we have seen how humor has been used by the smartphone industry in television advertisements. The satire in the
Samsung commercials that made fun of Apple fans waiting in line
for the latest release from Cupertino made a lot of
Apple iPhone
users take a long look at themselves in a humorous way.
But there are other styles of humor that can be used effectively. Take this new television spot from Canadian carrier Rogers for the
Motorola RAZR
. The carrier plays off the RAZR name on the phone by showing what would happen if the sleek device was shot out of some type of air cannon and aimed at an egg and a cake. The result is obvious, of course, but for the casual person who is not aware of the names of released handsets, the Motorola RAZR name will stick in their mind once they view the ad.
Once again, though, we wonder if Rogers would be better served by actually showing the features of the phone at work. The only time we see the Motorola RAZR turned on is to show that it still boots up after
slicing through yolk and buttercream
, and how often does that situation occur to a smartphone in real life?
source:
YouTube
via
AndroidCentral