Rhythm NewMedia acquires new funding to topple Apple's iAds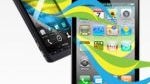 Television
commercials
only matter during the Super Bowl, and print ads are completely dead. The true venue to market your wares will be the world of mobile advertising. With Apple launching
iAds
, and Google acquiring
AdMob
, the titans have been working to claim their share of the mobile adspace. Another player, Rhythm NewMedia, is also gunning for that #1 spot.
With a new infusion of $10 million, Rhythm NewMedia is moving towards a larger share of our valuable time. So why do we care about this? Because increased competition among ad placement companies will further refine the way we consume
advertisements
. By learning from one another, mobile advertisers will make our experience less intrusive (while still making an impression), and hopefully more enjoyable. Television and print have already undergone this refinement, but mobile ads are still relatively young.
Rhythm NewMedia began in 2005, and has grown to serve only top-tier clients. In this year alone, they've done business with 100 of the
Fortune
500 companies. Most of their business is based on video ads, like the pre-roll videos you might see before a publisher's content. Rhythm explains that they were "a bit early" to the mobile ad game, but the
iPhone
(and others) really launched their platform.
source:
TechCrunch
Recommended Stories