Chuck Norris featured in Czech T-Mobile ads
8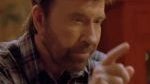 T-Mobile in the Czech Republic has worked some marketing magic, and signed Chuck Norris from some pretty funny ads. No, we don't know what they're saying, but it's Chuck Norris, so who cares?
The star of
Missing in Action
and
Walker, Texas Ranger
has been the subject of humorous lore for years now. Our favorite saying is that Chuck Norris' tears can cure cancer, but he'll never cry. We think, by comparison, this mobile marketing thing should be a snap.
T-Mobile USA
has been airing a negative
ad campaign
, targeting AT&T and the iPhone. While we appreciate what they're trying to do, we wonder why they didn't adapt a Chuck Norris campaign for more markets. If Chuck Norris told you to buy a
myTouch 4G
, wouldn't you listen?
source:
T-Mobile CZ (YouTube)
via
GSMArena
Recommended Stories