Retailers jump the gun: new Nexus 7 on store shelves and online today
15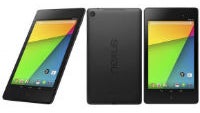 It looks like even retailers are getting excited about the new Nexus 7 tablet, because word has it that a number of Best Buy locations and other retailers have already started shipping pre-orders to customers, and some have put Google's new tablet on store shelves a full four days before the
official release date
.
It has been confirmed that Best Buy and Amazon are shipping any Nexus 7 orders being placed right now, so if you choose one day shipping from Amazon, you could have your new tablet on Monday, or you can opt for Saturday delivery and get it tomorrow. Certain Best Buy locations and Walmart locations have also put the tablet on store shelves, but not all are breaking the street date, so you may want to call first before running in.
Other retail partners like B&H, RadioShack, GameStop, OfficeMax, and Staples all seem to be sticking to Google's launch date of July 30th.
The new Nexus 7 tablet is offering a
solid speed boost
, and a big jump in the display resolution over the original, and it starts at just $229. Some call this a premium over the original, but you should keep in mind that when the OG Nexus 7 first launched, the 16GB version was priced at $249, while the 8GB model was $199. So, you might even say Google has lowered the price on the new generation.