Here is how much faster the 2013 Nexus 7 is, compared against last year's Nexus 7
28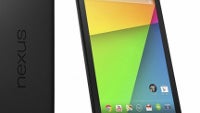 The new Nexus 7 (officially listed as 2013 Nexus 7) brings a lot to the table. It is not just the first 'Retina' compact tablet, it also brings the sharp display and upgraded silicon at an extremely affordable price.
It's a big upgrade over last year's Nexus 7 which already was brilliant. The new Nexus 7-incher is thinner, lighter and has a narrower bezel, making it more comfortable to hold.
Most importantly for geeks, though, it is more powerful. The 2013 Nexus 7 swaps the Nvidia Tegra chip from last year with a shiny new Qualcomm Snapdragon, and the difference is massive. Android Police was the first to run the cross-platform Geekbench test o the Nexus 7 and compare the results against those of last year's tablet. The difference is staggering. We'll leave the images speak for themselves.