Results: which dual camera idea do you like most: iPhone 7 Plus, LG G5, Huawei P9?
15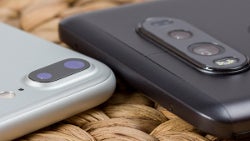 So, in 2016, we got to see three big-name flagships that tote a dual camera module on their backs. But all three used the secondary sensor differently. The iPhone 7 Plus has its 2x zoom telephoto lens, LG's G5 has a wide-angle shooter, and Huawei's camera has that monochrome sensor, which is supposedly used to measure lighting and distance.
All three have very different purposes and uses. Well, Huawei's snapper does tread into iPhone's territory, as the former has its own bokeh effect mode (called Portrait Mode on the iPhone). But still, different approaches that handle different needs.
We decided to ask you, which one suits you best? Here are the poll results: