Reserve Strap for Apple Watch uses hidden 6-pin port to charge the watch
16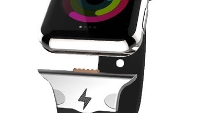 The Reserve Strap charging band has yet to be released, but the accessory has already gone through a redesign. Instead of using a magnetic inducing charger to allow those with the band to charge their Apple Watch on the go, the band will instead connect with a hidden 6-pin port on the timepiece. This connection will allow for a higher charging capacity with a quicker charging time.
The revision to the strap makes it more durable and it won't get in the way of users' enjoyment of the smartwatch. We should point out that those purchasing the strap will receive a special tool allowing them to access the 6-pin port which is located below one of the band connectors. You can see how the band connects to the Apple Watch by looking at the pictures in the slideshow below.
"Our engineers have been able to independently confirm that the 6 pin diagnostic port underneath the Apple Watch case can be used for charging. The Reserve Strap will take advantage of this using a simple, retractable connector instead of the previous inductive charging cradle design… By utilizing this port instead of wirelessly charging, we've been able to achieve a higher charge capacity and quicker, more efficient charging times while also improving durability and eliminating any interference with Apple Watch functionality including taptic feedback and heartrate sensors."-Reserve Strap
The charging band can be pre-ordered for $249.99. The first-batch will be shipped in the fall and the company says that these will go exclusively to those who pre-order the charging band. If you want to reserve the accessory that can charge up your timepiece effortlessly while it is on your wrist, click on the sourcelink.
source:
ReserveStrap
via
9to5Mac
,
GSMArena