Research shows weather apps are the big money winners in the Android Market
5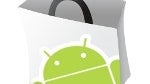 There are new numbers out about the Android Market from research firm research2guidance. We've seen this firm before, when it made
the bold statement
that app stores with fewer apps, like Ovi or WP7 Marketplace, generate more downloads per app than huge app stores like the iTunes App Store or Android Market. That said, there are some interesting figures in the new document pertaining to the growth of the Android Market, and about paid apps, but we're not sure exactly how the numbers were generated.
The general numbers have the total number of apps in the Android Market at 277,252 apps as of the end of August 2011, and about 35% of those apps are paid apps. In August, the Market added 20,000 new apps, while the iTunes App Store added 15,000. And, the Android Market has surpassed 6 billion downloads, which is a very big number, and nearly 25% of those downloads have been games.
More interesting are the numbers pertaining to paid apps. The research says that the average paid app sells for $3.13, and that the average publisher has had 6 apps in the Market, though only has 4 currently in the Market. Then the numbers get a little bit odd, because for some reason, the firm has calculated the revenues of paid apps from when the apps were published. We're suspecting that this was the easy way to calculate, because you simply multiply the cost by the number of downloads. But, if this is actually how the numbers were generated, that wouldn't take into account price changes or multiple downloads after purchase. We've contacted research2guidance for more info on how the numbers were calculated, and will update this if we hear back.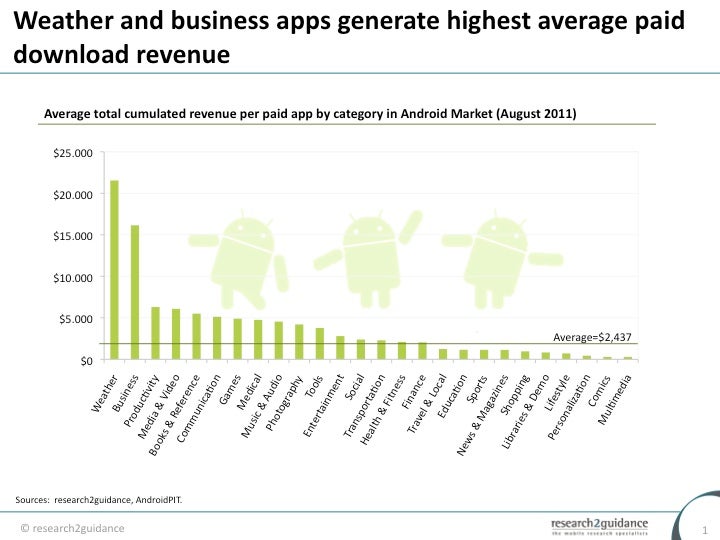 The numbers on paid apps show a pretty wide distribution across genres with multimedia apps at the bottom with a cumulative revenue of just $300, and weather apps on top with a cumulative revenue of $21,000. Of course, since these number are cumulative, that could mean that weather apps sold incredibly well at high prices when the Market launched, but don't generate as much money now. Or, games, which come in at about $5,000 of cumulative revenue, may not have made much money early on (because good games were hard to find), but are making much more now. This also doesn't mention whether or not the numbers include in-app purchases.
The research paper also has a number of references saying that it was "Powered by AndroidPIT", and we've also asked for clarification on what exactly that means, because it's a strange partnership for a research firm. More if it comes!