Research firm confirms obvious data about app store downloads
20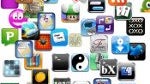 We know that all of you love to have unnecessary statistics, but unfortunately the latest research into smartphone app stores by analyst firm research2guidance costs €1,290.00, so we can only afford to bring you some of the more basic stats that the firm found. That said, the statistics for Q2 2011 are out and the research firm has concluded that the average app has a much higher chance of getting downloaded on a "non-hyped" platform like WP7 or Ovi.
The research even goes as far as to say that Android and iOS app stores are "over-hyped", which seems a bit misleading. Of course WP7 and Ovi generate more downloads per app because there are far fewer apps in those stores. Recent numbers have the Windows Phone Marketplace at somewhere around 30,000 apps, and Nokia's Ovi app store for Symbian has fewer than 40,000 apps. Compare that to somewhere over 400,000 for Apple's App Store, and the Android Market is likely somewhere around 300,000 apps (the only official numbers say 250,000 as of July, so over 300,000 by now seems a reasonable assumption.)
We wouldn't really say that the App Store or Android Market are "over-hyped", it's just a matter of too many apps overall. More interesting than the difference between WP7, Ovi and the rest is the difference in the big players. One of the most persistent complaints about the Android Market has been that app discovery is too difficult, and there isn't enough turnover in featured apps, so developers don't get as high visibility as in Apple's App Store. But, the numbers show that the Android Market is only 5% behind the average downloads per app compared to Apple. Given the absurd amount of junk in the Android Market (which we're hoping would have fewer average downloads, therefore bringing down the overall average), there's a good chance that quality apps on Android are downloaded at the same rate as those on iOS.
Still, if you're an indie developer, it may not be such a bad idea to port your app to WP7, Symbian or BlackBerry.