Research says Android and iOS will continue to dominate, but others will find their niches
34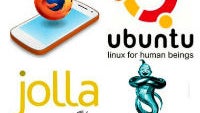 One of the most common questions that is asked any time someone hears the names Firefox OS, Sailfish, Ubuntu Touch, or Tizen, is whether or not these alternative platforms have much of a chance in a market that is dominated by Android (and to a lesser extent, iOS). But, a new report from Juniper Research says that emerging markets will give plenty of space for all comers.
According to Juniper, Android and iOS are expected to continue dominating the market. In fact, Juniper estimates that Samsung and Apple alone will ship more devices in 2018 than were shipped
by all manufacturers
in 2012. In 2012, all vendors combined shipped 677 million smartphones, but the estimate has Samsung and Apple combined shipping 800 million devices in 2018.
But, Juniper also says that the market will continue to split, and by 2018 newcomers like Asha, Sailfish, Firefox, and Ubuntu will have taken over 13% of the market.
G
iven that recently, all "others" beyond Android, iOS, and Windows Phone
combined for only 3% of global shipments
, that's a pretty big shift.