Reporter gets to tour Foxconn's iPad plant and has the video to prove it
12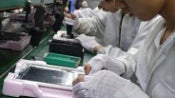 Rob Schmitz is the chief of American Public Media's Marketplace China bureau and he recently got in the limelight by taking a big part in exposing the lies of Mike Dorsay in its
"Agony and ecstasy of Steve Jobs."
He appeared on This American Life, and his involvement got him direct and very rare access inside Apple's Foxconn factories.
Schmitz is preparing a bigger piece about the conditions of workers he saw and while generally he describes their job as
very mundane
and talks about some issues with supervisors, he reassures us that the Foxconn factory looks more like a college campus rather than a slave camp.
The reporter was amazed with Foxconn factories and campus having
basketball courts, swimming pools
, and all those conveniences. He also saw workers sitting on stools that have a back rest, so that the long hours of work are more bearable. He also never saw underaged workers.
This however is not a rosy picture of the perfect factory - employees are sometimes forced to work when sick, and occasionally don't get paid for overtime work. Hit the source link below for Schmitz's impression of Foxconn and check out the video below to see the iPad being assembled.