Report shows how smartphones support shopping behavior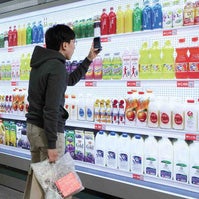 Without really thinking about it there are probably some places that you inherently use your smartphone as a personal shopping assistant when traversing the aisles of a brick and mortar store and other places that your mobile device doesn't really play a part. A recent Nielsen survey shows that there is a definite correlation between the type of store a shopper is in and how they tend to use their smartphone during the buying process.
For example, of those surveyed, 73% said they have read reviews while inside an electronics store. Other popular places to read reviews while shopping were department stores at 43% and mass merchandisers at 34%. Not surprisingly, places like grocery stores, convenience stores, and dollar stores are not places people commonly read reviews while shopping at, clocking in just 14%, 7%, and 3% respectively.
When it comes to scanning a QR code to get additional product details, the result were very similar to reading reviews. 57% of those surveys said they had performed this activity at an electronics store, 36% at a department store, and 31% at a mass merchandiser. We would also assume that this has a lot to do with the types of products that actually have QR codes on them.
Finally, using a smartphone to redeem or request a coupon proved to be popular at both grocery and department stores, which each netted 41%. Clothing stores were close behind with 39%, whereas it turns out customers were less apt to look for coupons on their mobile devices at places like convenience stores, furniture stores, and dollar stores.