Report says Google doesn't want Android and Windows dual-OS devices to happen
69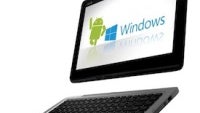 At CES 2014, we saw a limitedintroduction of tablets that run both Android and Windows on Intel"Bay Trail" chip. Although the convenience of these devicesis inarguable, the business part behind them is rather cumbersome andtheir future is disputable.
According to a DigiTimes, Google has "pressured" ASUS to "postpone" its plans to release itsTransformer Book Duet TD300 hybrid tablet. The device which runsAndroid and Windows 8.1 could result in an increased penetration ratefor Windows, which would benefit Intel and Microsoft, but not Google.It appears there's no way for ASUS to please all its partners at oncewith the launch of a dual-OS device, so the Taiwanese maker mighthave left the concept for better days.
Although Google and Microsoft's notablemutual disdain would suggest otherwise, the latter's recent expansionstrategy openly relies on Android to bring Windows to mobileplatforms. Since last year, there have been rumors of Microsoftasking its partners to produce dual-booting smartphones. The samehappened with other types on devices, and at this year's MWC,Microsoft and Nokia launched an Android-based series of smartphoneswhich serves as an introduction to Windows Phone more than anything.
It's understandable that Google wantsto avoid Android becoming a vessel for a competing platform'ssuccess. Given that, it's likely that other manufacturers will alsohave Mountain View "nicely" ask them to reconsider their dual-OS plans. If that's really the case, that is.
source: DigiTimes