Report: Samsung to offer its own mobile payment system next year
45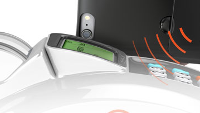 A report published today reveals that Samsung is looking to offer its own mobile payment system next year. To that end, Samsung is said to be in talks with LoopPay, a start up based in Burlington, Mass. One person familiar with the talks says that a prototype of the system has been developed and has worked successfully on a Samsung handset. LoopPay CEO Will Graylin has hinted that LoopPay would be found next year, embedded in smartphones from a major manufacturer. The executive wouldn't confirm that Samsung is the handset manufacturer involved.
Samsung is looking for a way to challenge Apple Pay. That is the mobile payment system that Apple offers on the
Apple iPhone 6
,
Apple iPhone 6 Plus
, and the Apple Watch. The user selects the credit card that he wants to use for a particular transaction. NFC connectivity is used to transmit payment information as the iPhone is held over the wireless terminal. Touch ID verifies the identity of the person making the purchase.
LoopPay's technology differs from Apple Pay in that NFC is not employed. Instead, "magnetic secure transmission" is used, allowing the user to tap his device near a credit card swipe terminal. LoopPay's technology is currently available embedded in a fob or a digital payment card. The card could be stored inside a smartphone case.
Because LoopPay's system mimics a credit card swipe, it is available in many more stores than Apple Pay. While Apple Pay is available in 220,000 retail establishments in the U.S., over 10 million retailers accept LoopPay. But Graylin added that the talks between his company and the unnamed smartphone manufacturer will result in the addition of NFC technology to LoopPay's use of magnetic stripes. According to the CEO, those using LoopPay will not need to open an app to make a payment.
source:
LoopPay
,
Re/code
via
AppleInsider