Report: Motorola backed off plans to offer a value priced version of the Moto 360
9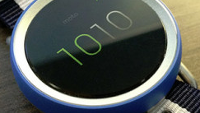 While
Motorola has introduced the 46mm, 42mm and rugged Sport versions of the Motorola Moto 360 (2015)
, there is one model that didn't make the final cut. A value-tier version of the Moto 360 (2015) was allegedly being planned by Motorola. The latter put the kibosh on this version of the watch, and apparently no reason was given for this decision.
Imaan Naeem, an Industrial Designer for the Lenovo owned manufacturer, produced a concept version of what this value-tiered Moto 360 (2015) might have looked like. Naeem's images show a lone button on the timepiece, placed at 2pm. That matches where you will find the button on the three models of the Moto 360 (2015) that were unveiled last week.
Other features on the concept include a colorful ring around the display, and a spring-loaded bar that makes it easy to change bands. This version of the Moto 360 would have be marketed to younger smartwatch buyers and probably would have been priced at around $300.
You can take a look at Naeem's concept version of the low-priced Moto 360 (2015) that Motorola supposedly killed off, by clicking on the slideshow below.
Thanks for the tip!
source:
eyeonmobility