Report: Global smartphone sales overtook feature phone sales in 2013 for the first time ever
7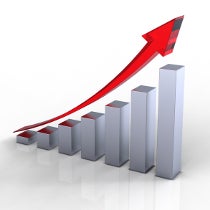 Gartner, a US-based technology research agency, released a report on the global mobile phone sales in 2013. According to it, for the first time in history, the global sales of smartphones overpassed the feature phone ones last year. The overtaking took place as early as the first half of 2013, just
as we told you back in August
.
It seems that 53.6% of all mobile phones, sold in 2013, were smartphones - 968 million units worldwide. This is a 42.3% increase in comparison the 558 million smartphones sold back in 2012. In the last quarter of 2013, this overall percent was even higher – 57.6%, which indicates that the sales trend is gradually increasing. This significant growth of the market is mostly due to the increased smartphone purchases in regions like Latin America, Africa, Eastern Europe and the Middle East, where an average 50% rise in sales can be observed even in Q4 2013 alone.
In contrast, developed markets experienced a drop in sales due to lower demand, Gartner's report states. According to Anshul Gupta, one of the researchers with the agency, these markets are saturated with smartphones and consumers experience lesser desire to replace them with newer ones. "Lack of compelling hardware innovation has further exacerbated replacement cycles for high-end smartphones in 2013 because consumers don't find enough reasons to upgrade," Gupta stated further.
Apple was one of the major manufacturers that saw an overall increase in their phone sales last year. More than 50 million iPhones have been sold during the last quarter of 2013 alone, despite the fact that Apple experienced a slight decrease of its share of the global smartphone market. Samsung, Apple's biggest adversary, also faced a small decrease of its market share in Q4 2013. The market shares of both companies suffered in favor of manufacturers, which release relatively cheaper entry-level smartphones, Gartner's report says.
Android continues to be the dominant mobile platform in 2013 – Google's OS is running on more than 758 million units, or 78.4% of the smartphone market. The second place here goes to Apple, as Cupertino has sold a little over 150 million iOS-powered phones. The bronze medal goes to the Windows Phone platform, which powers a tad over 30 million smartphone units.
So, what did you buy in 2013 - a smartphone or a feature phone?
source:
Gartner
via
DigiTimes