Report: Apple to cut iPhone production by 10% in the first quarter
21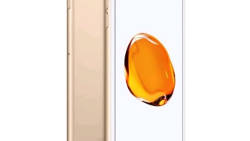 It would appear that Apple's suppliers are expecting Apple to cut production of its iconic smartphone by 10% in the calendar first quarter of 2017. That figure comes from Japan's Nikkei news agency after it crunched data from the iPhone supply chain. The reason for the cut is to align supply with demand for the device following a calendar fourth quarter that was affected by holiday sales, deals on the latest iPhone models, and other things that threw off the desired balance in the marketplace.
Apple thought it had learned a lesson last year when supplies of the
Apple iPhone 6s
and
Apple iPhone 6s Plus
grew at the end of the year. Looking to prevent a repeat, Apple ordered 20% fewer
Apple iPhone 7
and
Apple iPhone 7 Plus
units for its first fiscal quarter ending in December. But that didn't stop the company from having to make the inventory adjustments that it is having to do now. Despite demand for the 5.5-inch iPhone 7 Plus, Apple has had an issue sourcing enough camera sensors for this model, which carries a dual camera setup in back.
Apple has added an IP67 certification rating to both iPhone models this year, giving it long awaited protection from water. The iPhone 7 Plus has the aforementioned dual camera-setup on back, allowing photographers to make a blur in the background of photos. Despite these changes, improvements to the battery and the addition of the powerful A10 chipset, these new features don't seem to be enough to drive a hike in demand. And some consumers are still upset that Apple removed the 3.5-inch earphone jack from the new models.
For 2017, Apple is expected to produce a 4.7-inch Apple iPhone 7s and a 5.5-inch Apple iPhone 7s Plus, both using LCD glass. But
a rumored tenth-anniversary model, code named Ferrari
, could feature an OLED screen and a new design that includes an edge-to-edge display. Touch ID would be embedded in the glass.
source:
Nikkei
Recommended Stories