Report: Apple iWatch to have poor battery life
33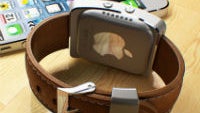 There is a lot of pressure riding on Apple to introduce something innovative and different with the iWatch. On Thursday, a report in the
New York Times
revealed that
the Apple wearable would have NFC connectivity, allowing it to support a new mobile payment system.
This platform is
expected to be unveiled by Apple on Tuesday. In addition, the iWatch will include sensors that can be used in conjunction with the Health app on iOS 8.
These sensors keep track of important health metrics such as blood pressure, heart rate, blood glucose readings and more. But there is a trade off for being able to track your health and handle financial matters from your wrist. For all of the additional functionality available with the iWatch, the power to run those features has to come from somewhere. And that is why a report in
The Information
states that the Apple timepiece will have "
disappointing
" battery life. The problem is that smartwatch components are really designed for smartphones. This negatively affects battery life and makes it harder for a watch to offer a sleek design.
According to the same source, those who have spoken with Apple employees note that for the most part, those working for the tech titan have low expectations for the device. In a strange way, those lowered expectations keep the pressure on Apple to deliver a wearable that will be just as indispensable to consumers as the smartphone has turned out to be. Keep in mind that Apple has been the master at lowering expectations, especially on Wall Street. Apple does this so that analysts lower their forecasts. This way, when the earnings come out higher than the managed expectations, the stock soars.
source:
TheInformation
,
NYTimes
via
BGR