Report: Apple has not yet started final production of the iPhone X
52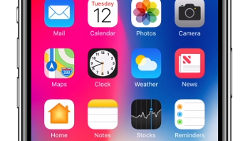 The
Apple iPhone X
, as many of you already know, is not scheduled to launch until November 3rd. That is six weeks following the release of the
Apple iPhone 8
and
Apple iPhone 8 Plus
on September 22nd. Pre-orders for the iPhone X will begin on October 27th. At least that is the schedule that Apple has mapped out for its tenth anniversary iPhone model. According to Raymond James analyst Christopher Caso, Apple hasn't even started production of its expensive new premium model.
Caso says that further delays in the production of the iPhone X have popped up recently. The analyst has spoken with supply chain players and it appears that production of the phone has been pushed back to Apple's first fiscal quarter, which is the fourth calendar quarter of the year (October through December). The late launch of the iPhone X originally
put a dent into iPhone 8 and iPhone 8 Plus pre-orders
as consumers decided to wait for the iPhone X to check it out. Ironically, an even longer delay in the arrival of the iPhone X could get consumers to throw in the towel and pick up the iPhone 8 or iPhone 8 Plus instead.
Caso points out in his note to clients that the start of iPhone X production is about a month late compared with expectations last month. And the beginning of production is about two months late compared to predictions made back in June.
"Interestingly, while the industry widely anticipated a shift in iPhone ramp timing, our checks suggest there was an incremental delay in the build plans – with orders firmed up as recently as last week – shifting production more into the December quarter. While our checks are ongoing, initial feedback from our meetings suggests that final production of iPhone X has not yet begun, with production expected to commence in mid-October. That production start is about a month later when compared to expectations a month ago, and about 2 months later than expectations at the end of June.  Notably, this is consistent with commentary from Diodes last week suggesting the timing had changed since reporting June quarter results and is important as it relates to tone and expectations for the December quarter."-Christopher Caso, analyst, Raymond James
source:
Barron's
Recommended Stories