Report: 145 million tablets to be shipped this year
4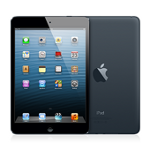 The crew at ABI Research pulled out their abacus and got down to deal with some serious numbers. When they were through, they came to the conclusion that
145 million tablets
will be shipped in 2013. The tablet market will see a number of new players this year, with the focus on affordability. 2013 will also be the year that the enterprise market starts to warmly embrace the tablet.
Microsoft Surface RT
tablet
has been a sales disappointment
, ABI Research says that the Pro version of the Surface, which is powered by an
Intel processor
and runs the Windows 8 OS, and the
Apple iPad mini,
will both do well in 2013. The report also predicts that 19% of tablet shipments will be destined for the business community as some slates will be designed for the office.
Whether it is because of the growing popularity of low cost tablets, ABI says that the dedicated eBook reader market is in danger of
extinction
. The U.S. dominates the market and ABI notes that the "
aging Baby Boomer population looking to replicate the print reading experience is a waning audience
," and that if other countries don't arrange for digital publishing, the eBook reader will disappear regardless of what happens in the tablet market.
"The rate of innovation is slowing as tablet vendors augment their product portfolios to meet the needs of market audiences. The late 2012 launches of Apple's iPad mini and a variety of slates based on Intel architecture and new Windows operating systems will only begin to show their progress this year."-Jeff Orr, ABI senior practice director
source:
ABIResearch
via
AndroidAuthority