J.P. Morgan analyst cites weak Microsoft Surface sales in cutting earnings estimates
15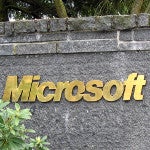 Microsoft Surface
sales of just
700,000 units
in the current quarter that ends in December. For the fiscal year that ends in June 2013, he forecasts 2.6 million units of the tablet will be sold, increasing to just 6 million for fiscal year 2014. As a comparison, the
Apple iPad
sold 6 million units in the September quarter alone. In addition, Microsoft's earnings are being impacted by lower PC sales.
Overall, the analyst now sees Microsoft reporting $21 billion in revenue and earnings of just
68 cents a share
for the December quarter. His previous estimate called for Microsoft to gross $21.4 billion in the three month period, and produce earnings of 72 cents per share. His fiscal year forecast for 2013 now calls for revenue of $77.8 billion and earnings of $2.62 a share. His original forecast was for revenue of $78.5 billion and earnings of $2.72 a share.
For fiscal year 2014, DiFucci now sees Microsoft bringing in $82.9 billion in revenue with profits of $2.91 a share. That compares with his original call for $83 billion in gross with a bottom line figure of $3.02 a share for that year.
"We believe a number of factors, including price, the lack of cellular connectivity, and relatively lukewarm critical reviews will limit its broad appeal at this time. In addition, at least some Surface sales will be cannibalistic to traditional laptop sales."-JohnDiFucci, analyst, J.P. Morgan
source:
Forbes