Remember when Motorola's Sanjay Jha mistakenly referred to a dual-core chipset as a 2GHz chip?
16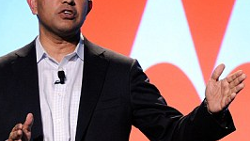 We remember` back in June 2010 when then
Motorola CEO Sanjay Jha spoke about a 2GHz CPU powering an Android handset
sometime in 2010. What Jha really was talking about was a dual-core chipset. And the very first handset carrying a chipset with multiple cores was the
LG Optimus 2X
. That phone was powered by the dual-core Nvidia Tegra 2 and was followed by the
Motorola Atrix
, which was also driven by the Tegra 2 chipset.
Since then, we have busted through the quad-core ceiling, the hexa-core ceiling (thanks to the overheating Snapdragon 810 SoC which led LG to stuff the Snapdragon 808 chipset into the
LG G4
) and octa-core CPUs are now found everywhere. Taiwan based
MediaTek was the first to offer a "true" octa-core SoC
with all eight cores working independently of each other. That compares with the big.LITTLE architecture used by other octa-core chipsets. Those chips featured a high performance cluster of four cores used on tasks requiring heavy duty power. Another cluster of four cores are employed on less power intensive tasks.
In May of 2015, MediaTek introduced the Helio X20. The chipset
featured a deca-core CPU
. Over a year later,
the Helio X30 was announced, carrying a deca-core CPU
and the PowerVR 7XT GPU. Built using TSMC's 10nm FinFET process, the Helio X30 carries four Cortex A-73 cores clocked at 2.8GHz to handle the tough jobs. Four Cortex A-53 cores will run at 2.2GHz, and two Cortex A-35 cores running at 2GHz make quick work of the housekeeping chores. MediaTek calls this a tri-cluster chip.
The
Vernee Apollo 2 is expected to be introduced at Barcelona this month
, the first handset powered by the Helio X30. It will carry up to 8GB of RAM and 128GB of native storage. The phone certainly reminds us how far we've come since Sanjay Jha mistakenly referred to a dual-core processor as a 2GHz chip back in June of 2010.