MediaTek unveils the 10nm Helio X30 chipset with a quad-core PowerVR 7XT GPU
21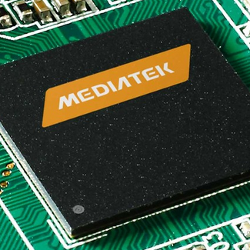 MediaTek has announced today the Helio X30 chipset. Once again featuring a deca-core CPU and a tri-cluster design like the Helio X20 and X25, the chip will start shipping sometime next year. Built using TSMC's 10nm FinFET process, the Helio X30 will contain a deca-core CPU with four Cortex A-73 cores clocked at 2.8GHz to handle the toughest of tasks. Four Cortex A-53 cores will run at 2.2GHz, and two Cortex A-35 cores running at 2GHz will handle light housekeeping chores.
The chipset will support a camera carrying a sensor as high as 40MP, and video capture as high as 24MP. A 16MP camera can take video at 60fps, while an 8MP snapper will receive video support up to 120fps. The Helio X30 will work with a device sporting as much as 8GB RAM. This support comes in the form of two LPDDR4 POP 1600MHz channels. The GPU on board is a quad-core PowerVR 7XT, which makes it perfect for the upcoming explosion in VR enabled devices.
The modem supports three carrier aggregation and LTE Cat. 12. We would expect to see the Helio X30 SoC powering some high-end smartphones in Asian markets during the second half of 2017. Interestingly,
when the chip leaked back in March,
the specs were almost nailed perfectly.
source:
PhoneRadar